Event Details
Want the experience of a lifetime!? Why not run the 2017 TCS New York City Marathon! Charting a course through New York's five boroughs and across the city's landmark bridges, the marathon begins on Staten Island and ends – where else – but in Central Park, the city's very own oasis.  With a supportive crowd lining the way and the satisfaction of soaking up The Big Apple's one-off vibe, running the NYC Marathon is bound to be the race of your life.
Event date:
5 November 2017
Package date:
3 - 6 November 2017
Inclusions:
Guaranteed entry to the 2017 TCS New York City Marathon held on 5 November (Runners Only)
3 nights accommodation (Fri/Sat/Sun)
Post marathon celebration drinks – hosted by Flight Centre
Official 2017 TCS New York City Marathon souvenir running shirt (Runners Only)
Bus transfer to Staten Island – where your marathon begins – Operated by the NYRR event organisers (Runners Only)
Meet & Greet Function – Saturday afternoon
Flight Centre representative for on-the-ground support
Flight Centre running singlet personalised with your name (Runners Only)
---
W Hotel Time Square

– Wonderful room, no meals included
Runner Package (Twin share):
from HK$13,998 per person

Runner Package (Single):
from HK$20,490 per person

Non runner Package (Twin share):
from HK$7,570 per person
Overlooking Times Square, this slick tower hotel is 2 minutes' walk from the 49th Street subway station and a 12-minute walk from Bryant Park.
Polished rooms have bespoke beds with luxury linens and pillow menus. All feature Wi-Fi (fee), flat-screen TVs and DVD players, as well as desks and minibars.
There's a stylish lobby bar, a Mexican restaurant and a chic seafood eatery with a jazz soundtrack. Other amenities include a fitness center, concierge services and meeting rooms.
Location to race day transfer – Approx 1km | Location from finish area – Approx 2.5km
---
The New Yorker Wyndham Hotel

– Standard room with view including breakfast daily
Runner Package (Twin share):
from HK$12,930 per person

Runner Package (Single):
from HK$18,150 per person

Non runner Package (Twin share):
from HK$6,637 per person
Nestled in Midtown Manhattan along 8th Avenue – just south of Times Square and north of Penn Station – stands an iconic Jazz Age-era building that has drawn some of the most influential travelers in history. You'll know you're close when you look up to see its Art Deco façade, proudly adorned with red block-letters: NEW YORKER.
Location to race day transfer – Approx 1km | Location from finish area – Approx 4km, the subway has a direct line from finish are to Penn station
---
The Watson Hotel (formerly Holiday Inn Midtown 57th Street)

- Standard room including breakfast daily
Runner Package (Twin share):
from HK$12,385 per person

Runner Package (Single):
from HK$17,160 per person

Non runner Package (Twin share):
from HK$5,895 per person
Located 2 blocks from Central Park, where you can take advantage of the many outdoor activities in the park. Rooms are spacious and generously appointed. With your choice of either one king bed, one queen bed or two double beds, there is comfort to be found for everyone in this 600 room hotel.
Location to race day transfer – Approx 2.5km | Location from finish area – Approx 2km from furthest exit
---
Blog
by Sarah Nicholson. 
This post originally appeared on Flight Centre AU.
Well before dawn on November 1, 2015 a team of New York police and city officials will quietly close the Queensboro Bridge.
On any other day of the year this famous span, stretching 2.27 kilometres across the East River to connect Manhattan's urban canyons with the suburban streets in Queens, is busy with vehicles moving between the bustling New York boroughs.
But on this frosty Sunday morning - it could be a brisk five degrees Celsius with wind chill knocking a few more numbers off the temperature - it will sit empty until the first of 50,000 runners pound across the asphalt as they sprint, saunter, shuffle and stagger from the start of the TCS New York City Marathon on Staten Island to the race finish in Central Park.
For the vast majority of athletes it will be the toughest stretch of the 42.195-kilometre course because the bridge crossing comes roughly 25 kilometres into the epic challenge, has a harsh up-hill approach, and is void of the spectators that line the route to constantly encourage competitors.
Alexis Daly, a Queenslander who completed last year's TCS New York City Marathon, still remembers "going into shutdown" as she crossed what felt like a "never-ending stretch'' of road filled with an eerie and lonely silence.
"The hardest part of the New York Marathon for me was, by far, the Queensboro Bridge," the Brisbane resident explains.
"There's no crowd out there, it's the only part of the course where supporters aren't allowed to gather, so it felt like I suddenly went into this long and lonely tunnel where boredom hit because there were no people cheering me on.
"But the upside of crossing the Queensboro Bridge is one of the coolest moments happens when you get to the other side, you come off the bridge and round a corner and there's a crowd of screaming people welcoming you to Manhattan, and that filled me with the buzz again.
"It was the crowd that got me though the tough times that day, people paint signs and bring their families out and stand there all day in the cold to cheer on the runners, and these are the people that keep you going when you're out there alone."
Last year's New York Marathon was Alexis' second 42-kilometre event - she's only been running three years and started with the London Marathon in 2013 - and while the race is a bucket-list challenge for many recreational runners the Brisbane travel agent was keen to complete the test to better understand her customer's requirements.
Alexis is a business manager at Flight Centre Active Travel, a branch of the Flight Centre brand that arranges energetic experiences for travellers keen to do more than 'stop and flop' on their holidays, and organise for athletes to take tackle the world's most iconic marathons and ironman events.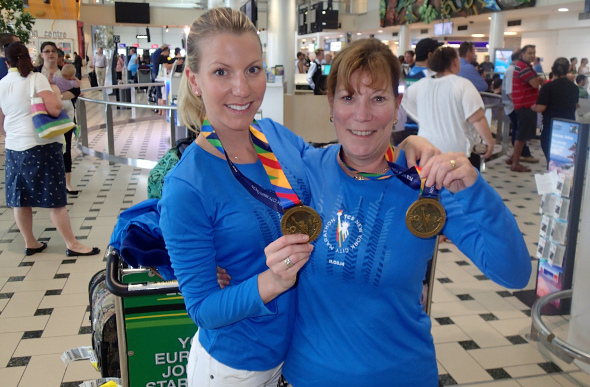 Alexis with her mum Anita, a first-time marathon runner, holding their finisher's medals
"Flight Centre Active Travel can sell confirmed entry into major events that have been sold out," she says.
"If you go online and it says a particular ironman event or marathon is sold out we have guaranteed entry, and that's sold as part of a travel package that includes accommodation with other nice things thrown in like a pre-race dinner and celebratory drinks after the event.
"All staff members are qualified travel agents so can also look after other arrangements like flights, travel insurance, extra accommodation, and transfers which means the athlete can stop thinking about travel plans and focus on training.
"The team also compete in all these events, as well as doing the treks and other hard-core adventures we offer, so we understand travelling sometimes means dragging a bike along and is more complicated for athletes than just walking out the door with a suitcase."
Flight Centre Active Travel is offering packages to compete in the 2015 New York Marathon with the deal including three nights at the W Hotel in Times Square, a group pasta dinner the night before the run, and celebratory drinks back at base after the event.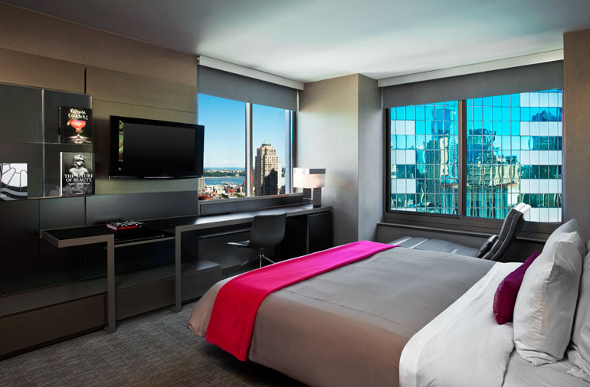 The W Hotel in Times Square has incredible rooms right in the middle of New York (image: W Hotel)
"We stay at W Hotel because the staff is unbelievable - we've stayed two years now so they know us and take care of us - and the location in Time Square means a short walk home from the finish line,'' Alexis says.
"We also have packages for family and friends and we take care of the supporters just as well as the athlete because we know how important they are not just before, during and after the race but for those long months in the training phase .''
So, what other tips does Alexis have for those keen to remove an item from their bucket list and run the 2015 New York Marathon?
"I had only been to New York once before the race, I knew the course passed through the city's five boroughs, and I knew it would be cold," she says.
"What I found was a lot of waiting around before the start, the weather was freezing cold with an insane wind that almost knocked me off my feet, the nerves went away as soon as I started, and the enormity of what I was doing hit me around the 20 kilometre mark.
"And when I finally hit that finish line there was a rush of emotions, tears of happiness, an enormous sense of satisfaction, and pain."
Talk to a travel expert and personalise your trip