Looking for Singapore Holiday Packages?
We can't find any online Singapore holiday deals at the moment but one of our helpful Travel Experts can help you find what you're after! Send us an online enquiry or call us on 2830 2899.
Clean streets, top shopping and fine food
The meticulously-landscaped 2.2-kilometre Orchard Road gives you 6 department stores, 22 malls and a bamboozling 5,000 brands. It's not the only kid on the top tourist block either. Landscaped, cage-free and touted as one of the prettiest in the world, Singapore Zoo is home to almost 3,000 free-wheeling animals on 26 hectares.
Merlion Fountain
The official languages of Singapore reflect its diversity: English, Chinese, Malay and Tamil – and this makes for gastronomic adventures when dining. When drinking, of course Singapore does more than a sling, but one of the fun and refined imports the locals have kept which you might like to try is high tea at Raffles Hotel. If your holiday in Singapore is brief but you want to make the most of the climate, head to one of the beaches down south on Sentosa Island.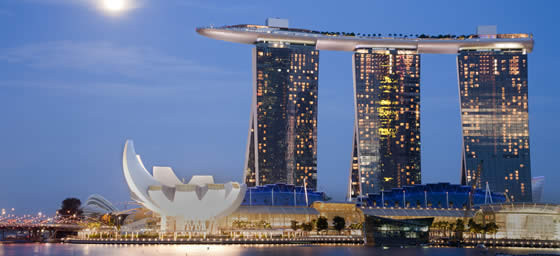 Marina Bay