Flights plus accommodation equals value!
We have a great range of international holiday packages that are exclusive to Flight Centre. Bundle your airfares with accommodation or a tour or activity for great savings. Here are some great holiday ideas.
World famous for a reason
Cuba is the largest Caribbean island and Havana delights with faded architecture, kicking nightlife and the ever-photogenic classic cars. There are hundreds of dive spots in Cuba and its unspoilt coral and excellent underwater visibility draw visitors from across the globe. Diving with stingrays is a highlight in the Cayman Islands and Barbados is still the isle of rum. The Bahamas paint the natural appeal of the Caribbean in (not so small) miniature. No one chills out quite like a Jamaican.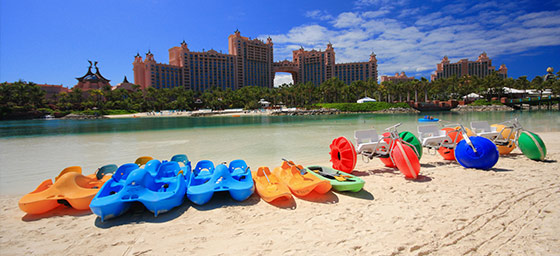 Atlantis Resort in the Bahamas
Come for a holiday in the Caribbean and find your perfect little idyll. Do as much or as little as you like. Find your own rhythm – and someone will dance to it with you.
Dunns River Falls in Ocho Rios, Jamaica | by Flight Centre's Anna Malloy