Choose from our range of Zurich holiday packages below that each include your flights, accommodation, and often special bonuses like tours and free upgrades. If you can't find the package you're looking for, contact one of our friendly consultants on 2830 2899 and don't forget to ask about customising a package to suit your needs.
Looking for Zurich Holiday Packages?
We can't find any online Zurich holiday deals at the moment but one of our helpful Travel Experts can help you find what you're after! Send us an online enquiry or call us on 2830 2899.
Zurich Airport (ZRH)
Flights from Hong Kong to Zurich will disembark at Zurich Airport.
Zurich Airport (ZRH) is the Swiss capital's primary airport and the largest international airport in the country. Zurich Airport is also a major hub for Swiss International Air Lines.
Airport Accommodation: There are a number of hotels located in close proximity to Zurich Airport. Book your Zurich Airport accommodation.
Airlines that fly to Zurich
Airlines that offer cheap flights to Zurich from Hong Kong include:
Zurich enjoys the fine things in life but not in the buttoned-down, lacklustre way the stereotype would have us believe. Yes, it's Switzerland's economic powerhouse and has the world's fourth-largest stock exchange (so there's no shortage of bankers and stockbrokers). However, there's been a burst of new energy since the turn of this century with the opening of scores of new clubs, bars and restaurants. Add efficiency, confectionary and proximity to the Alps and what's not to love?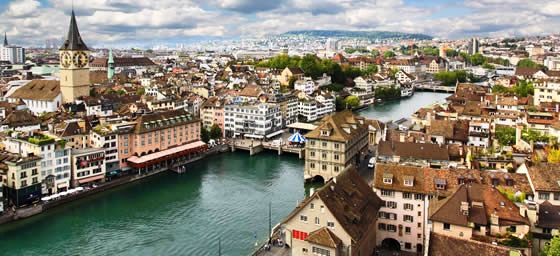 Aerial View of the City
Top and quirky museums and art galleries to see include: Landesmuseum, Kunsthaus, Jacobs Coffee Museum and, out of town further along the banks of Lake Zurich in Rapperswil, is the country's only circus museum. The pedestrianised, upscale shopping street, Bahnhofstrasse, is popular and the old town (Niederdorf) is enchanting. Winter months give you the chance to reach the skifeilds by train (with a snow'n'rail ticket) and in summer the Lake Promenade is a top spot for rambling.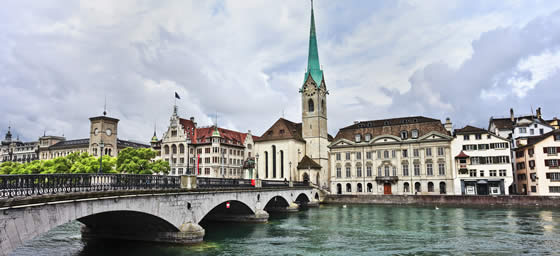 Zurich's Old City
Bring your appetite too. Chocolatiers Lindt and Frey have factories in Zurich; Teuscher, the truffle specialists, have 3 city stores; Sprüngli is a virtual institution, offering and array of sweet and savoury delights. Speaking of savoury goodies, fondue and raclette originate in Western Switzerland but you'll find them in restaurants here. The quintessential dish is Zürigschnätzlets, veal in a cream and wine sauce, and when you need a health kick after that, remember muesli was invented as a health food in Switzerland.
Set to go? Book your flights to Zurich or check out our Zurich accommodation to get started.
For more information on Zurich holidays check out our Zurich travel guide.