Choose from our range of Wellington holiday packages below that each include your flights, accommodation, and often special bonuses like tours and free upgrades. If you can't find the package you're looking for, contact one of our friendly consultants on 2830 2899 and don't forget to ask about customising a package to suit your needs.
Looking for Wellington Holiday Packages?
We can't find any online Wellington holiday deals at the moment but one of our helpful Travel Experts can help you find what you're after! Send us an online enquiry or call us on 2830 2899.
Wellington Airport (WLG)
Flights from Hong Kong to Wellington will disembark at Wellington International Airport.
Wellington International Airport (WLG) services New Zealand's capital and is the third busiest airport in the country. The airport was once known as Rongotai Airport due to its location in the suburb of Rongotai and is a secondary hub for Air New Zealand.
Airport Accommodation: There are a number of hotels located in close proximity to Wellington International Airport. Book your Wellington Airport accommodation.
Airlines that fly to Wellington
Airlines that offer cheap flights to Wellington from Hong Kong include:
For more information on Wellington holidays check out our Wellington travel guide.
Looking for more than just a flight? A Wellington holiday package includes flights, accommodation, and often other extras like tours or car hire. View our Wellington holiday packages.
Arguably the performing arts centre of New Zealand, the country's capital, Wellington presents fascinating sights to explore during the day and innovative theatrical productions to appreciate at night. The New Zealand Parliamentary Buildings, with the unique design of the Executive Wing resembling a beehive, are must see structures. With such a wide range of Wellington tours available, it's possible to be guided around the official Parliament House and view the architecture from the inside. Now home to the Victoria University Law School, the Old Government Buildings is one of the largest wooden buildings in the world. Also consider exploring the National Library of New Zealand, Carter Observatory and Turnbull House, an impressive mansion.
Streets of Wellington
The city boasts a wide array of Wellington accommodation options and is enclosed by picturesque hills; each offering spectacular views over the capital and the harbour. To save the walk, the historic Wellington Cable Car is an exciting way to be transported to the botanic gardens. Other vantage points include Mount Victoria with 360 degree views, Mount Kaukau and the Brooklyn Windmill. A stroll along the water-front promenade overlooking Lambton is a satisfying wander.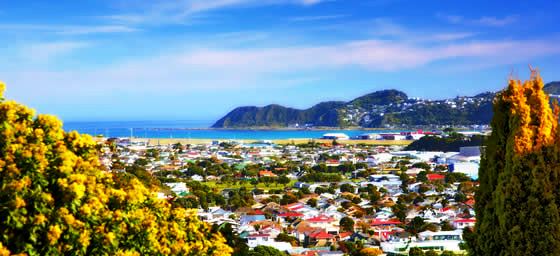 Cityscape View
Wellington boasts a number of performing arts ensembles committed to producing thought-provoking productions. Consider investigating what's on at the Circa Theatre, Embassy Theatre or the Bats Theatre. The acclaimed Royal New Zealand Ballet is based in Wellington and is well worth considering. Te Papa is the country's national museum, while the Museum of Wellington City & Sea offers a comprehensive history of the city. You can explore these sights and more with our cheap flights to Wellington.