Choose from our range of Vietnam holiday packages below that each include your flights, accommodation, and often special bonuses like tours and free upgrades. If you can't find the package you're looking for, contact one of our friendly consultants on 2830 2899 and don't forget to ask about customising a package to suit your needs.
Looking for Vietnam Holiday Packages?
We can't find any online Vietnam holiday deals at the moment but one of our helpful Travel Experts can help you find what you're after! Send us an online enquiry or call us on 2830 2899.
The most eastern country in Indochina, Vietnam is a resilient nation with a tumultuous history. Plagued by war for many years, Vietnam is now deservedly at peace and moving forward as a bourgeoning tourist hotspot. Influenced heavily by China and Buddhism, Vietnam is very much a traditional country where ancient customs are still practiced. Traditional Vietnamese food is also valued and a highlight for most travellers.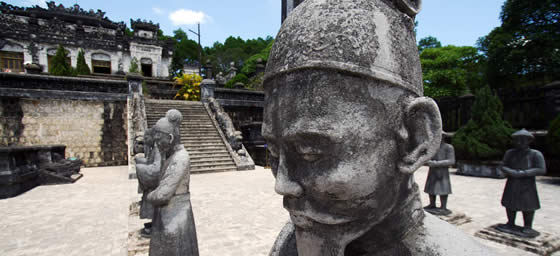 Tomb of Emporer Khai Dinh
Ho Chi Minh City blends tradition with modernity to create a truly unforgettable experience. Scooters stream past ancient pagodas and spice markets neighbour skyscrapers. This is also the city where Vietnam accommodation is at its best. Luxury has an affordable price tag here while guest houses offer an authentic Vietnamese experience. If you're hunting a bargain, wander through the buzzing Benh Thanh Market where haggling is a must and people-watching is a highlight. Ho Cho Minh City, still affectionately known as Saigon, is also a great place to learn about Vietnam's history of war. Visit the retro Reunification Palace and gripping War Remnants Museum.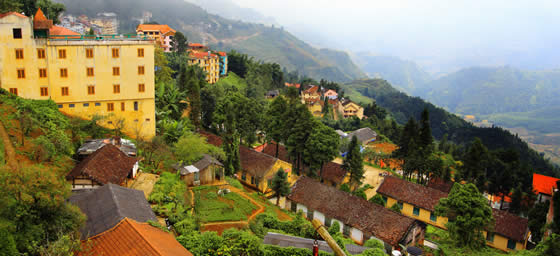 Sapa Hillside
Vietnam's capital Hanoi may be a little smaller and quieter than Ho Chi Minh City, but by no means is it a dull city. Here the streets still flow with an endless sea of scooters, while tourists and locals haggle in the countless streets of market stalls. History is also more prominent in Hanoi than in Ho Chi Minh City, particularly the French colonisation period which added touches of Parisian chic to the existing oriental flair of the city. While here, don't miss walking across the iconic red bridge of the Rising Sun to Ngoc Son Pagoda. The One Pillared Pagoda and Ho Chi Minh Mausoleum are also popular attractions worth visiting.
Few can resist travelling to Vietnam without swimming at its magnificent beaches. One of the country's biggest coastal hotspots is Nha Trang, located on the south coast. Beloved for its turquoise waters and grass beach huts, Nha Trang is an urbanised beach town well equipped for tourists and a hub for scuba diving. For something a little less crowded, Mui Ne is a charming beach town complete with swaying palm trees, pristine sand and luxury resorts. To discover some of the country's more secluded islands and beaches, consider a Vietnam tour.
For more on Vietnam holidays check out our Vietnam travel guide or view our range of Vietnam holiday packages that include flights, accommodation and often other extras like tours or car hire.