Choose from our range of Vienna holiday packages below that each include your flights, accommodation, and often special bonuses like tours and free upgrades. If you can't find the package you're looking for, contact one of our friendly consultants on 2830 2899 and don't forget to ask about customising a package to suit your needs.
Looking for Vienna Holiday Packages?
We can't find any online Vienna holiday deals at the moment but one of our helpful Travel Experts can help you find what you're after! Send us an online enquiry or call us on 2830 2899.
Vienna Airport (VIE)
Flights from Hong Kong to Vienna will disembark at Vienna International Airport.
Vienna International Airport (VIE) is located south east of Vienna, serving the city and its surrounding regions. Vienna International is the largest airport in Austria and acts as a major hub for Austrian Airlines.
Airport Accommodation: There are a number of hotels located in close proximity to Vienna International Airport. Book your Vienna Airport accommodation.
Airlines that fly to Vienna
Airlines that offer cheap flights to Vienna from Hong Kong include:
Vienna is best known for its fascinating history and the picture-perfect old buildings that go along with it. To learn about this history while witnessing some of Europe's most impressive historic buildings and monuments, take a walk through World Heritage Listed Historic Centre of Vienna.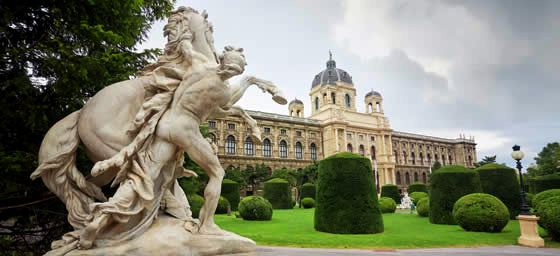 Natural History Museum
The Historic Centre is home to impeccable examples of Baroque architecture, including old castles, town halls, universities and administrative buildings. Roaming the streets here is a journey back in time, offering visitors a peaceful and culturally significant escape amongst the hustle and bustle of Vienna.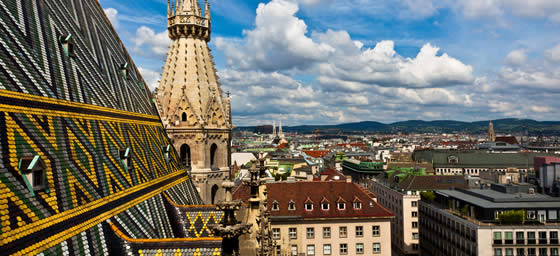 St. Stephen's Cathedral Roof
Vienna isn't just a city of heritage. Woven between the myriad of important historical landmarks is an exciting and dynamic culture of contemporary art, fashion and nightlife. See some of Europe's best modern art at Albertina or Schleifmühlgasse, and be sure to work your way through the numerous trendy cafés and bars in the Wieden district.
Looking for more than just a flight? A Vienna holiday package includes flights, accommodation, and often other extras like tours or car hire. To enquire about a Vienna holiday package, call a Flight Centre travel consultant on 2830 2899 today.
For more information on Vienna holidays check out our Vienna travel guide.