Choose from our range of United States holiday packages below that each include your flights, accommodation, and often special bonuses like tours and free upgrades. If you can't find the package you're looking for, contact one of our friendly consultants on 2830 2899 and don't forget to ask about customising a package to suit your needs.
Looking for United States Holiday Packages?
We can't find any online United States holiday deals at the moment but one of our helpful Travel Experts can help you find what you're after! Send us an online enquiry or call us on 2830 2899.
In its national anthem the USA famously lists itself as the land of the free and the home of the brave. But that's not all that resides here. In Alaska you'll find glaciers, in Las Vegas - a neon city, while Hawaii is home to world-famous beaches and laidback island living. A holiday in the USA promises Hollywood movie icons, deep fried soul food and the ultimate road trip on Route 66.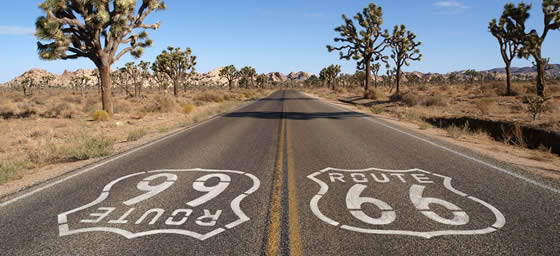 Get Your Kicks on Route 66
Before you book your USA holiday consider skiing the slopes of Colorado, flirting with lady luck in Las Vegas or feeling the heat in Miami. Or maybe see it all on a USA tour. Take the family to Orlando to visit Walt Disneyworld, Universal Studios and SeaWorld or enjoy a picturesque retreat for two to Vermont or Maine. The choice is yours and no matter what your style, we have a range of USA accommodation to suit.
So where to start your USA holiday? New York is not only a city that never sleeps but also a place perfect for tourist exploration. At the top of your list should be New York icons such as the Statue of Liberty, Time Square and the Empire State Building. Get your cultural fix at the Metropolitan Museum of Art, see a Broadway show or take a break with a walk through Central Park. Once you've finished your own tour of New York, experience the city as a local and explore Manhattan's trendy suburbs such as Greenwich Village, Soho and the Upper East Side.
San Francisco is a city that many list as their favourite. Perhaps it's the scenic sea views, the bohemian culture, the lively nightlife or all three. Whatever your interests, San Francisco is sure to leave you wanting more. Be inspired by a walk through the Misson district, where alleys feature a colourful concoction of Latin American and street graffiti art. Admire the views and Golden Gate Bridge while riding San Francisco's iconic cable cars to the city's highest points and explore the town at night to make new friends.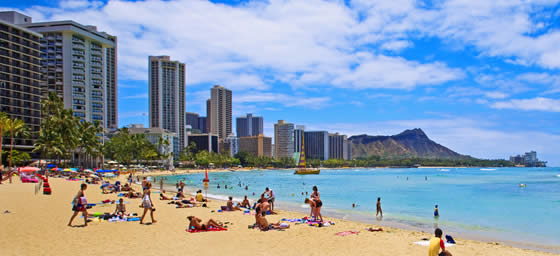 Honolulu, Hawaii
For more on USA holidays check out our USA travel guide or view our range of USA holiday packages that include flights, accommodation and often other extras like tours or car hire.