We don't have any products online right now but one of our consultants may be able to help you. Enquire now to get access to great deals all over the world.
Choose from our range of Toronto holiday packages below that each include your flights, accommodation, and often special bonuses like tours and free upgrades. If you can't find the package you're looking for, contact one of our friendly consultants on 2830 2899 and don't forget to ask about customising a package to suit your needs.
Looking for Toronto Holiday Packages?
We can't find any online Toronto holiday deals at the moment but one of our helpful Travel Experts can help you find what you're after! Send us an online enquiry or call us on 2830 2899.
Toronto Airport (YYZ)
Flights from Hong Kong to Toronto will disembark at Toronto Pearson International Airport.
Toronto Pearson International Airport (YYZ), situated west of the city, is Canada's busiest airport serving around 32 million passengers a year. The airport was renamed in 1984 after Lester Pearson, a former Canadian Prime Minister and Nobel Peace Prize recipient.
Airport Accommodation: There are a number of hotels located in close proximity to Toronto Pearson International Airport. Book your Toronto Airport accommodation.
Airlines that fly to Toronto
Airlines that offer cheap flights to Toronto from Hong Kong include:
Toronto is very much a modern city, but for what it lacks in historic sites it more than makes up for in modern experiences. See the city from its prized vantage point at the CN Tower, climb the sculptural staircase at the Gallery of Ontario or wander the Gothic Revival style house of Casa Loma Castle.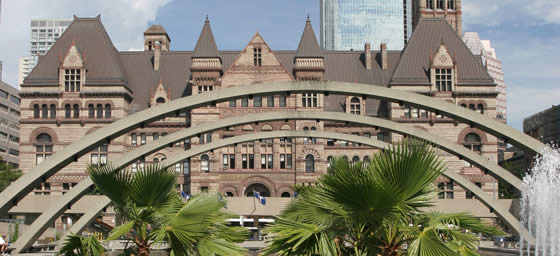 Old City Hall
In addition to the landmarks, Toronto is a city active with events. From sold-out hockey games to symphony concerts and a rotating calendar of festivals, the city rarely witnesses a dull moment. Of all of the events, the Toronto International Film Festival is the most famous. Taking place in September, the festival is usually attended by over 250,000 people and screens over 300 films from 59 countries.
But Toronto is no stranger to multiculturalism. Take a look at the cuisine on offer and you'll realise just how diverse this city is. From Chinatown to Little Italy, Greektown and burrows home to Portuguese and Jamaican communities, it's more than possible to eat your way around the world in Toronto, and the locals often do.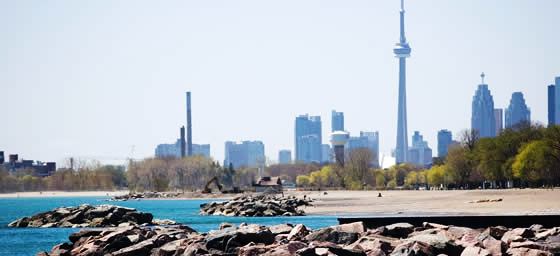 View of the CN Tower & Skyline from the Toronto Beaches
While the city is a hive for activity, there are other parts of Toronto that offer solace from the colourful streets. Take a leaf out of a local's book and take a break at the beach, wander the waterfront or browse the Ontario countryside which is littered with spas and sunny spots.
Looking for more than just a flight? A Toronto holiday package includes flights, accommodation, and often other extras like tours or car hire. View our Toronto packages.
For more information on Toronto holidays check out our Toronto travel guide.