We don't have any products online right now but one of our consultants may be able to help you. Enquire now to get access to great deals all over the world.
Choose from our range of Tahiti holiday packages below that each include your flights, accommodation, and often special bonuses like tours and free upgrades. If you can't find the package you're looking for, contact one of our friendly consultants on 2830 2899 and don't forget to ask about customising a package to suit your needs.
Looking for Tahiti Holiday Packages?
We can't find any online Tahiti holiday deals at the moment but one of our helpful Travel Experts can help you find what you're after! Send us an online enquiry or call us on 2830 2899.
Tahiti Airport (PPT)
Flights from Hong Kong to Tahiti will disembark at Faa'a International Airport.
Faa'a International Airport (PPT) in Papeete is the main gateway for travellers to the island of Tahiti, and the only international airport serving French Polynesia. The airport is comprised of a main terminal area and a separate terminal for Air Moorea domestic flights.
Airport Accommodation: There are a number of hotels located in close proximity to Faa'a International Airport. Book your Tahiti Airport accommodation.
Airlines that fly to Tahiti
Airlines that offer cheap flights to Tahiti from Hong Kong include:
Tahiti is 2 of the 118 islands comprising French Polynesia – others in the archipelago include Bora Bora, Raiatea, Huahine and Moorea. This swathe of the Pacific is a honeymoon haven. Papeete is Tahiti's capital, tiny and slightly chaotic, with a busy market and harbour. Cruise and cargo ships and ocean-going yachts regularly sail in but flights arrive in Faa'a. English is understood in the main tourist areas but if you're going to stray from the holidaymakers' path, brush up on your French before visiting.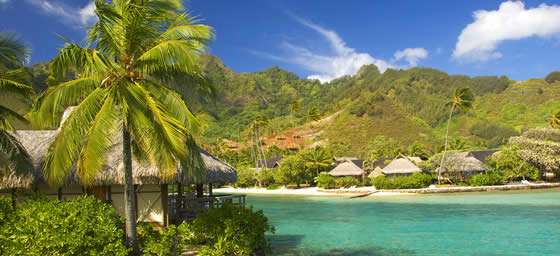 Overwater Bungalows
A 4-wheel drive mountain safari can take you across Tahiti via the Papenoo Valley, affording waterfall views and delightful scenery or maybe a horse ride to the heart of Secret Mountain sounds more appealing? Climing Mount Aorai (just more than 2,000 metres) can be done without a guide and if you want to feel even closer to the sky, the Astronomers' Society of Tahiti opens its observatory every Friday and Saturday night to star gaze. Naturally, there's a myriad of aquatic activities available and there's just lazing by the pool...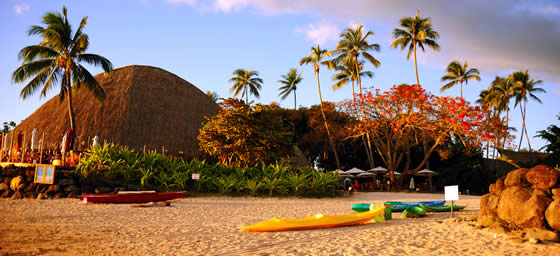 Tahitian Beach at Sunset
Ready for an island break? Book a flight to Tahiti or check out the Tahiti holiday packages to keep your plans simple.
For more information on Tahiti holidays check out our Tahiti travel guide.