Choose from our range of Stockholm holiday packages below that each include your flights, accommodation, and often special bonuses like tours and free upgrades. If you can't find the package you're looking for, contact one of our friendly consultants on 2830 2899 and don't forget to ask about customising a package to suit your needs.
Looking for Stockholm Holiday Packages?
We can't find any online Stockholm holiday deals at the moment but one of our helpful Travel Experts can help you find what you're after! Send us an online enquiry or call us on 2830 2899.
Stockholm Airport (ARN)
Flights from Hong Kong to Stockholm will disembark at Stockholm-Arlanda Airport.
Stockholm-Arlanda Airport (ARN) is an international airport servicing Stockholm and its surrounding areas. The airport is the largest in Sweden and acts as a major hub for travel to the country. SAS Scandinavia is also based at the airport and has a head office close by.
Airport Accommodation: There are a number of hotels located in close proximity to Stockholm-Arlanda Airport. Book your Stockholm Airport accommodation.
Airlines that fly to Stockholm
Set on the Baltic Sea, Stockholm is on an archipelago of some 24,000 islands. Swathes of the city are either waterways or parks and green spaces – this is a place you can really enjoy a fresh, spacious feel not often found in a capital city. Known also for its design, fashion and nightclubs, this is a city in where people-watching is an attraction in itself. In summer you can certainly get some mileage out of one day – it's light for about 18 hours; but conversly you only get about 6 hours of light per day in winter.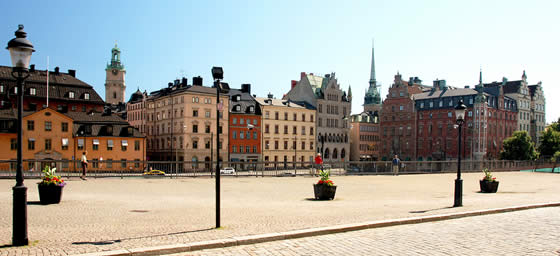 Old Town
Here's a quick guide to the central neighbourhoods so you can hit the ground running, or meandering, whichever you prefer:
Gamla Stan – the enchanting old town, with its cobblestone streets and attractive buildings, is dominated by the Royal Palace; the adjacent island is Riddarholmen and its church is the burial place of Swedish monarchs
Norrmalm – the commericial and business hub is here along with the summertime tourist-swamped pedestrian shopping street Drottninggatan, laid out in the 1630s
Östermalm – this is an upmarket neighbourhood dotted with a large city park, high end shopping and nightlife, several museums (including the Skansen open air museum) an amusement park and Stockholm University
Södermalm – home to rugged terain and many restaurants, bars and pubs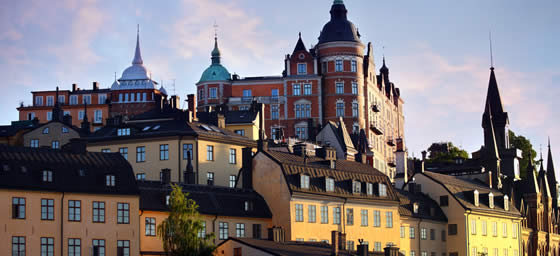 Stockholm Skyline
Sound good? Book your flight to Stockholm today or check out the Stockholm accommodation to get started.
For more information on Stockholm holidays check out our Stockholm travel guide.