Choose from our range of South Korea holiday packages below that each include your flights, accommodation, and often special bonuses like tours and free upgrades. If you can't find the package you're looking for, contact one of our friendly consultants on 2830 2899 and don't forget to ask about customising a package to suit your needs.
Looking for South Korea Holiday Packages?
We can't find any online South Korea holiday deals at the moment but one of our helpful Travel Experts can help you find what you're after! Send us an online enquiry or call us on 2830 2899.
The Korean peninsula was formerly split in 1953 after a war that devastated both the north and the south. From this turbulent event, South Korea regrouped to focus on economic growth and prosperity – and in doing so achieved extraordinary success. The country was able to officially demonstrate their achievements at the 1988 Summer Olympic Games. The Korean Wave continues to sweep the world.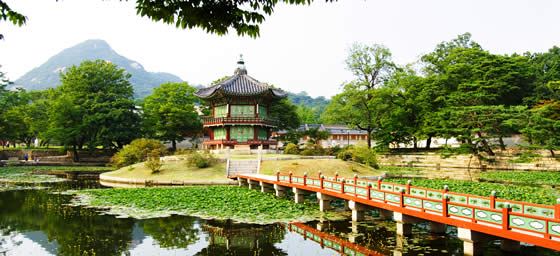 Emperor's Palace
Seoul, the country's capital, is generally the first city most tourists experience when visiting South Korea. At the top of your sight-seeing list should be the various imperial palaces that are scattered throughout the city. Gyeongbok-gung is arguably the most impressive palace and Changgyeong-gung is also definitely worth exploring. Travellers should also admire the architecture of the shrines and temples - we recommend Jongmyo Shrine and Jogye Temple.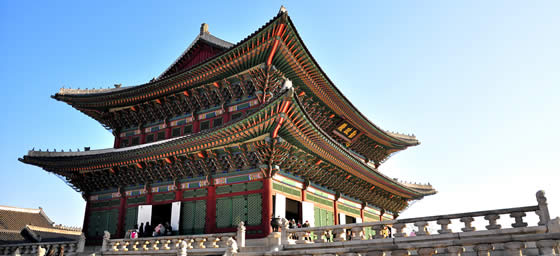 Gyeongbokgung Palace
For peace and tranquillity away from the hustle of central Seoul, head to one of the nearby mountains; many that can be enjoyed as a day trip. The trekking opportunities around Mount Bukhan are terrific. Alternatively, consider hiking around Mount Gwanak or Mount Samseong. There are also beautiful parks within the city itself including Namsan Park.
Are you ready to explore South Korea? Check out our flights to South Korea or contact Flight Centre for great tips on things to do and see on your Asian holiday.