Looking for Singapore Holiday Packages?
We can't find any online Singapore holiday deals at the moment but one of our helpful Travel Experts can help you find what you're after! Send us an online enquiry or call us on 2830 2899.
Singapore Airport (SIN)
Flights from Hong Kong to Singapore will disembark at Singapore Changi Airport.
Singapore Changi Airport (SIN) is Singapore's primary airport and the home base for a large number of airlines including Singapore Airlines. Spanning across four terminals, Singapore Changi Airport is a major stop over hub for international travel to Asia.
Airport Accommodation: There are a number of hotels located in close proximity to Singapore Changi Airport. Book your Singapore Airport accommodation.
Airlines that fly to Hong Kong to Singapore
Airlines that offer cheap flights to Singapore from Hong Kong include:
For more on Singapore holidays check out our Singapore travel guide or view our range of Singapore holiday packages that include flights, accommodation and often other extras like tours or car hire.
In 1824 Britain acquired sovereignty over Singapore; a control that remained in place until the country declared separation from the UK in 1963, with total independence in 1965. As such the colonial legacy remains strong within the Asian state. To explore the British influence, wander through the colonial district, also known as Riverside or Civic, to explore the Old Parliament Building which is now an arts centre, City Hall, a Cenotaph memorial, St Andrew's Cathedral and the former Supreme Court Building. The hotel, Raffles, epitomises the British influence and is definitely worth a visit; consider staying on to enjoy a Singapore Sling.
Merlion Fountain
Modern Singapore boasts distinct neighbourhoods all deserving exploration. Experience Chinese culture in Chinatown, sample Indian delicacies in Little India and hunt down incredible fabrics on Arab Street. For shopping, take a bee-line for Orchard Road, the city's foremost shopping street. When it's time to rest your head, take your pick from the wide range of Singapore accommodation available, including luxury hotels at affordable prices.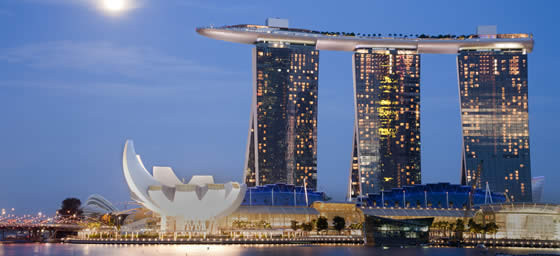 Marina Bay
In the far south of the country, Sentosa Island offers a variety of attractions including a famed beach, golf club, underwater world and numerous World War II fortifications. In Singapore's north, the Singapore Zoo, with the popular night safari, is perfect family entertainment. With our flights to Singapore you can explore all of this and more.