Choose from our range of Siem Reap holiday packages below that each include your flights, accommodation, and often special bonuses like tours and free upgrades. If you can't find the package you're looking for, contact one of our friendly consultants on 2830 2899 and don't forget to ask about customising a package to suit your needs.
Looking for Siem Reap Holiday Packages?
We can't find any online Siem Reap holiday deals at the moment but one of our helpful Travel Experts can help you find what you're after! Send us an online enquiry or call us on 2830 2899.
Siem Reap Airport (REP)
Flights from Hong Kong to Siem Reap will disembark at Siem Reap International Airport.
Siem Reap International Airport (REP) is located about 6 kilometres outside Siem Reap. The airport is the busiest in Cambodia serving the popular nearby tourist destination of Angkor Wat.
Airport Accommodation: There are a number of hotels located in close proximity to Siem Reap International Airport.
Airlines that fly to Siem Reap
Airlines that offer cheap flights to Siem Reap from Hong Kong include:
Looking for more than just a flight? A Siem Reap holiday package includes flights, accommodation and often other extras like tours or car hire. View our holiday packages to Asia now.
For more information on Siem Reap holidays check out our Siem Reap travel guide.
Located in north western Cambodia, Siem Reap has long been considered as a convenient gateway to the Angkor region and its numerous temples. Once belonging to the Khmer Empire from the 9th to the 15th century, the temples of Angkor offer fascinating insight into Seim Reap and Cambodia's history.
The most popular attraction within the Angkor Archaeological Park is the Angkor Wat, a large temple spanning five towers covered in intricate carvings representing Hindu mythology. With a rectangular wall measuring 1025 by 800 metres, the temple is one of the largest religious monuments in the world.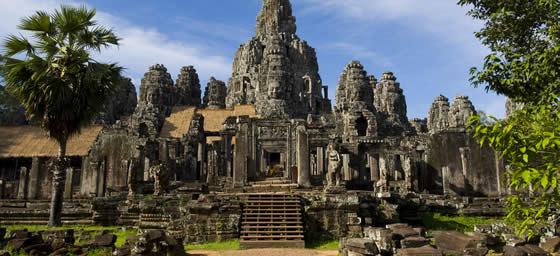 Angkor Thom
It is here you can climb the Angkor Wat and see scenes that feature in the movie Tomb Raider. Other temples worth exploring include the Angkor Thom, the Roluos group and the outlying temples. Numerous tours reach the temples, offering a variety of routes and sites to suit all travellers.
Back in town, the city of Siem Reap is alive with action and energy, particularly in Psar Chaa, also known as the Old Market. Though over the years this area has become westernized with restaurants and backpacker bars, the area is also home to interesting wet markets touting local product, crafts and souvenirs.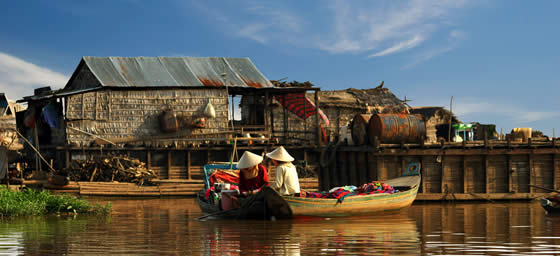 Floating Village
For a taste of unique culture, just outside of Seim Reap are the floating villages of Chong Kneas. Floating along the Tonle Sap Lake, these villages include floating houses, floating schools, fish farms and even crocodile farms. Join a tourist boat and learn more about how the villages operate.