We don't have any products online right now but one of our consultants may be able to help you. Enquire now to get access to great deals all over the world.
Choose from our range of Seattle holiday packages below that each include your flights, accommodation, and often special bonuses like tours and free upgrades. If you can't find the package you're looking for, contact one of our friendly consultants on 2830 2899 and don't forget to ask about customising a package to suit your needs.
Looking for Seattle Holiday Packages?
We can't find any online Seattle holiday deals at the moment but one of our helpful Travel Experts can help you find what you're after! Send us an online enquiry or call us on 2830 2899.
Seattle Airport (SEA)
Flights from Hong Kong to Seattle will disembark at Seattle-Tacoma International Airport.
Seattle-Tacoma International Airport (SEA) is located just over 23 km from Seattle and is a major hub for Alaskan Airlines. The airport is the 17th busiest in the Unites States.
Airport Accommodation: There are a number of hotels located in close proximity to Seattle Tacoma International Airport. Book your Seattle Airport accommodation.
Airlines that fly to Seattle
Airlines that offer cheap flights to Seattle from Hong Kong include:
As the largest city in the Pacific Northwest, Seattle is home to a plethora of sights and experiences. At the forefront of Seattle's tourist attractions is the Seattle Space Needle, built in 1962 as part of the World's Fair. At its highest point the needle is 184 metres tall and on a clear day (though they are rare), boasts some fantastic views of the city.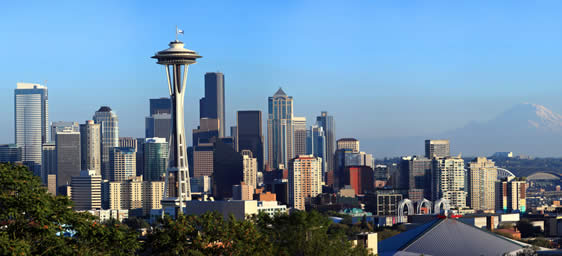 Seattle Skyline
But there is plenty of action to be found on the ground as well. The city's Olympic Sculpture Park is a perfect example. What was once a barren industrial site is now one of the city's most beloved areas, a green space filled with a variety of sculptures, set amongst the scenic background of the Olympic Mountains and Puget Sound. For an even better view of the Olympic Mountains, take the ferry out to Bainbridge Island. Once there, the hiking trails of the Bloedel Reserve offer a great chance to spot Pacific Northwest wildlife, or you can simply browse the galleries and shops of Winslow.
The Seattle Great Wheel
Back on the mainland, locals will tell you not to leave town without seeing the flying Salmon at Pike Place Market. While the fish are actually thrown, it all adds to the bustling atmosphere of the markets, where over 100 vendors sell everything from artisan cheeses to homemade soup. The markets are also home to the first original Starbucks, a testament to the city's passion and lust for quality coffee.
Though they may have the first Starbucks, locals now turn their nose up at chain store coffee, opting rather for boutique and organic blends. Locally brewed beers and IPAs also have a very loyal following, as does the organic and slow food movement. Treat your tastebuds to a trendy meal and brew like only Seattle can offer at one of the restaurants, cafes and bars found in Georgetown.
Looking for more than just a flight? A Seattle holiday package includes flights, accommodation, and often other extras like tours or car hire. View our Seattle packages.
For more information on Seattle holidays check out our Seattle travel guide.