We don't have any products online right now but one of our consultants may be able to help you. Enquire now to get access to great deals all over the world.
Choose from our range of Samoa holiday packages below that each include your flights, accommodation, and often special bonuses like tours and free upgrades. If you can't find the package you're looking for, contact one of our friendly consultants on 2830 2899 and don't forget to ask about customising a package to suit your needs.
Looking for Samoa Holiday Packages?
We can't find any online Samoa holiday deals at the moment but one of our helpful Travel Experts can help you find what you're after! Send us an online enquiry or call us on 2830 2899.
Samoa Airport (APW)
Flights from Hong Kong to Samoa will disembark at Faleolo International Airport.
Faleolo International Airport (APW) is located 40km west of Samoa's capital, Apia, and is the main gateway into Samoa. The airport consists of one relatively small terminal building.
Airlines that fly to Samoa
Airlines that offer cheap flights to Samoa from Hong Kong include:
Abandon any idea of a to-do list. Come and let the beaches, lagoons, reefs, forests and lava tubes beckon at the right moment. Samoa is about half way between Hawaii and New Zealand and its 10 islands are the result of countless volcanic eruptions. Apia is the capital and Upolu and Savai'i are the 2 main islands (separated by a 90-minute ferry trip).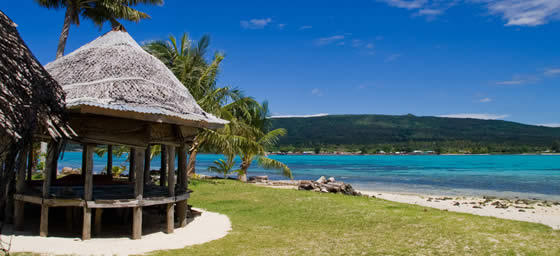 Beach Hut
If you're inclined to move from your hammock or beach towel, you won't regret snorkelling or diving here: there are around 900 species of fish to spot, in addition to dolphins and whales, and 200 species of coral. Surfers will enjoy the islands too, with several breaks on both main islands to get the adrenalin going.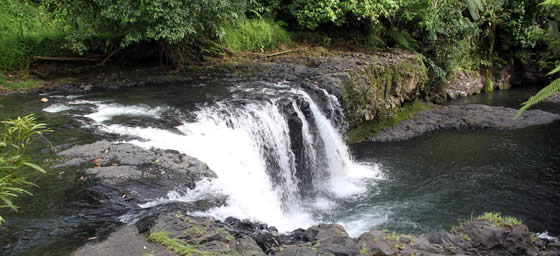 Upolu Island Waterfall
Beach walks, cliff trails, hikes to waterfalls and forest canopy walks allow leisurely and quick-paced (if you must) exploration of the geographic delights here. The more you explore the more you'll appreciate why Scottish writer Robert Louis Stevenson enjoyed his later life here.
Ready for an island break? Book a flight to Samoa or check out the Samoa holiday packages to keep your plans simple.
For more information on Samoa holidays check out our Samoa travel guide.