We don't have any products online right now but one of our consultants may be able to help you. Enquire now to get access to great deals all over the world.
Choose from our range of Perth holiday packages below that each include your flights, accommodation, and often special bonuses like tours and free upgrades. If you can't find the package you're looking for, contact one of our friendly consultants on 2830 2899 and don't forget to ask about customising a package to suit your needs.
Looking for Perth Holiday Packages?
We can't find any online Perth holiday deals at the moment but one of our helpful Travel Experts can help you find what you're after! Send us an online enquiry or call us on 2830 2899.
Perth Airport (PER)
For helpful information about getting to and from the airport, check-in information and more have a look at our Perth Airport Guide.
Airport Accommodation: If you're looking to stay as close as possible to Perth Airport, book a hotel in Belmont or Ascot.
Airlines that fly to Perth
Airlines that offer cheap flights to Perth from Hong Kong include:
As well as being the most remote capital centre, Perth is indeed also one of the greenest. It's impossible to visit Perth without coming across one of the biggest inner city parks in the world, Kings Park. Some 1,003 acres, Kings Park is home to immaculate gardens, grassed parkland, tourist facilities and war memorials, and can be explored via the network of tree-lined streets. Take an afternoon to explore and unwind in this inner city sanctuary.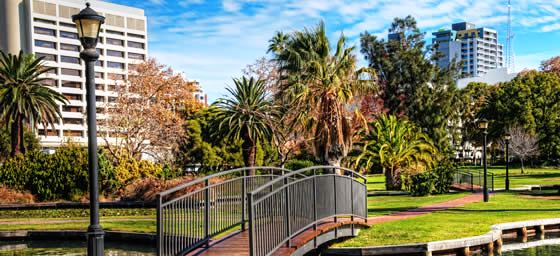 Queens Park
Shopaholics won't be able to get enough of the suburb of Subiaco, located less than 5 kilometres west of the city centre. Here you'll find countless boutique fashion stores and a plethora of trendy cafés. In the CBD, Murray Street and Hay Street malls are a great place to start, and King Street or West End for the more expensive designer labels.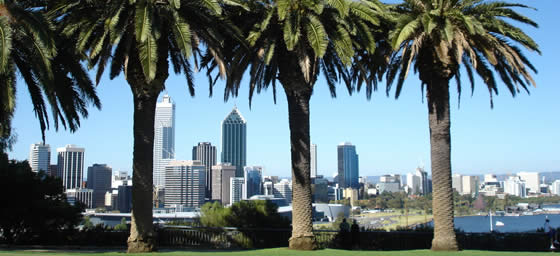 View of the City from Kings Park
Don't miss out on a trip to Fremantle, half an hour's drive south west from Perth. As a port city servicing Perth, Fremantle is home to several maritime-themed attractions including the Western Australian Maritime Museum and the most significant maritime archaeology museum in the southern hemisphere, the Shipwreck Galleries. Also check out Western Australia's only World Heritage Listed site, Fremantle Prison, and do a tour of the Little Creatures brewery followed by a few beers at its popular bar.
You might also be interested in our international airline guide.