Choose from our range of Munich holiday packages below that each include your flights, accommodation, and often special bonuses like tours and free upgrades. If you can't find the package you're looking for, contact one of our friendly consultants on 2830 2899 and don't forget to ask about customising a package to suit your needs.
Looking for Munich Holiday Packages?
We can't find any online Munich holiday deals at the moment but one of our helpful Travel Experts can help you find what you're after! Send us an online enquiry or call us on 2830 2899.
Munich Airport (MUC)
Flights from Hong Kong to Frankfurt will disembark at Munich Airport.
Munich Airport, known to locals as Flughafen München, is the main airport of Munich and the second busiest airport in Germany. Taking its German name from politician Franz Josef Strauss, Munich Airport has two terminals and is a secondary hub for Lufthansa.
Airport Accommodation: There are a number of hotels located in close proximity to Munich Airport. 
Airlines that fly to Munich
Airlines that offer cheap flights to Munich from Hong Kong include:
Munich officially became a city in 1175 and is now an economic powerhouse with artistic flair and scientific prestige. Graced with an extensive rebuild effort post World War Two, there are squares, royal residences and key civic buildings that look the same (albeit slightly fresher) as they did centuries ago at the time of Bavarian kings. The people maintain quiet pride in their city that melds history and contemporary life.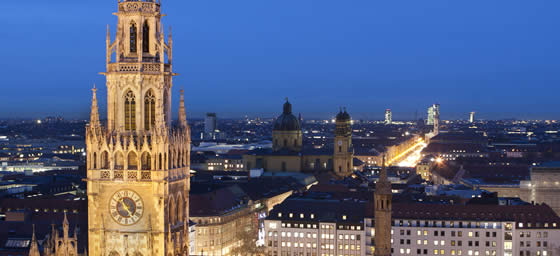 Munich by Night
Things get a little more boisterous when more than 5 million people attend the annual Oktoberfest, which began a little more modestly in 1810. But if you're done with your stein's share of the 7 million litres of beer served in the halls, where else do you go while you're in town? Here's a quick guide to some of the districts:
City Centre (Marienplatz/Isartor/Karlsplatz/Odeonsplatz) – admire the old city hall, Glockenspiel; the famous beer hall, the Hofbräuhaus; or ride a permanent wave in the creek in the huge park at Englischer Garten
Schwabing – enjoy the trendy shoe stores and upscale restaurants and bookstores of this charming, leafy neighbourhood
Haidhausen – dance up a sweat in more than 30 clubs and discos and stroll the next morning through the beautiful French Quarter
Nymphenburg – escape the city centre crowds and enjoy some respite in the Schloss Nymphenburg gardens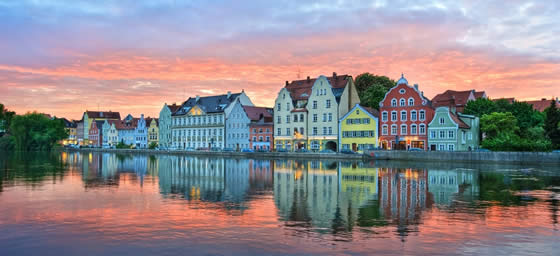 Old Town
So, is your cultural curiosity aroused? Thirsty? Grab a flight to Munich if you're set to go. If you would like to talk about it, give Flight Centre a call on 2830 2899.
For more information on Munich holidays check out our Munich travel guide.