We don't have any products online right now but one of our consultants may be able to help you. Enquire now to get access to great deals all over the world.
Choose from our range of Mexico City holiday packages below that each include your flights, accommodation, and often special bonuses like tours and free upgrades. If you can't find the package you're looking for, contact one of our friendly consultants on 2830 2899 and don't forget to ask about customising a package to suit your needs.
Looking for Mexico City Holiday Packages?
We can't find any online Mexico City holiday deals at the moment but one of our helpful Travel Experts can help you find what you're after! Send us an online enquiry or call us on 2830 2899.
Mexico City Airport (MEX)
Flights from Hong Kong to Mexico City will disembark at Mexico City Airport.
In 2006 Mexico City's principle airport, Benito Juárez International Airport (MEX) was renamed to honour the revered nineteenth century President. The airport, located in the eastern part of the city, is the main hub for Mexico's largest airline, Aeroméxico.
Airport Accommodation: There are a number of hotels located in close proximity to Mexico City Airport. Book your Mexico City Airport accommodation.
Airlines that fly to Mexico City
Airlines that offer cheap flights to Mexico City from Hong Kong include:
Welcome to the largest city in North America – built on the dry bed of Lake Texcoco and surrounded on three sides by mountains and volcanoes. More than 20 million people call Mexico City home and at 2,200 metres above sea level, it can provide a heady experience in more ways than one.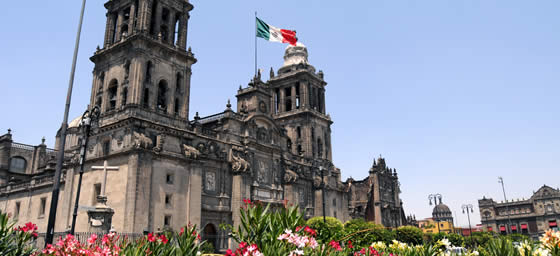 Metropolitan Cathedral
Amid the city's sprawl – and below the gradually-diminishing layer of smog – there are swathes of poverty next to well-to-do areas, but very generally, the middle and upper classes tend to live on the western side of the city. Large ethnic districts welcome Cubans, Spaniards, Americans, Japanese, Chilean and Lebanses Mexicans.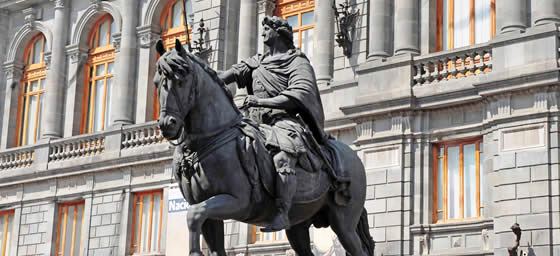 National Museum of Art
Downtown Mexico City has been an urban area since the pre-Colombian 12th century and has buildings from each era since. Here's a quick guide to things to see and do:
Visit Plaza de la Constitución – this is one of the largest squares in the world, rimmed by historic buildings including City Hall and the cathedral
Go to the top of Torre Mayor – Latin America's highest building, affording unrivalled city views
See the National Museum of Anthropology – enjoy sculptures, jewels and handcrafts from ancient Mexican cultures
Live through the Day of the Dead (1–2 November) – see a city paying homage to its deceased loved ones, exchanging skulls made of sugar and chocolate and parading to local cemeteries
Grab a flight to Mexico City to be one of the thousands who visit annually, search for a holiday package or a deal on your accommodation.
For more information on Mexico City holidays check out our Mexico City travel guide.