Choose from our range of London holiday packages below that each include your flights, accommodation, and often special bonuses like tours and free upgrades. If you can't find the package you're looking for, contact one of our friendly consultants on 2830 2899 and don't forget to ask about customising a package to suit your needs.
Looking for London Holiday Packages?
We can't find any online London holiday deals at the moment but one of our helpful Travel Experts can help you find what you're after! Send us an online enquiry or call us on 2830 2899.
London Airports (LON: LHR, LGW)
Flights from Hong Kong to London may disembark at the following airports:
Airport Accommodation: There are a number of hotels located in close proximity to London's airports. Book your London Airport accommodation
Airlines that fly Hong Kong to London
As one of the largest cities in the world, London is an international travel hub served by a large number of airlines. The following airlines fly from Hong Kong to London:
For more on London holidays check out our London travel guide or view our range of London holiday packages that include flights, accommodation and often other extras like tours or car hire.
Steeped in more than 1,000 years of history, London proudly offers many iconic attractions to delight eager visitors. Practise your royal wave at Buckingham Palace, relish the gruesome history at the Tower of London, set your watch to Big Ben and enjoy the view from the London Eye. Consider admiring the Houses of Parliament, Downing Street, Trafalgar Square, St Paul's Cathedral and Covent Garden or enjoy a London tour to see it all.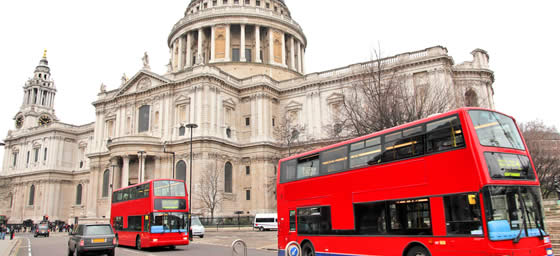 Iconic Double-decker Buses Pass the Great St Paul's Cathedral
Art enthusiasts will appreciate the incredible collection at the National Gallery, the Tate Modern and the Portrait Gallery. The British Museum contains cultural artefacts from around the world, while Westminster Abbey is the burial place for the who's who of British royalty and figures of note.
Leicester Square is the heart of the theatre district, with dozens of theatres offering big name stars performing in classic and contemporary plays, musicals and opera. For an authentic Elizabethan experience, enjoy Shakespeare performed at the reconstructed Globe Theatre in Southwark. Soho is the centre of the entertainment district and offers many bars, clubs and trendy London accommodation. Oxford Street allows shopaholics to grab a bargain, while the famed Harrods is located in Knightsbridge.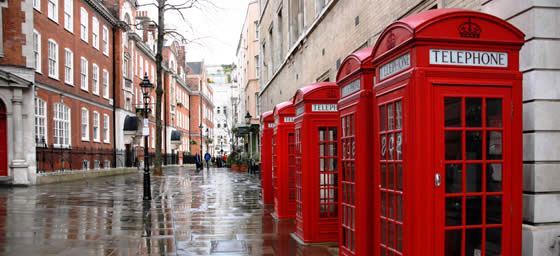 Traditional Red London Phoneboxes
London boasts beautiful parks including the iconic Hyde Park, Regent's Park, Holland Park and Hampstead Heath, which offers tremendous views across the city. To celebrate Britain's maritime history, take the Tube to Greenwich and explore the National Maritime Museum, before wandering around the Docklands.