We don't have any products online right now but one of our consultants may be able to help you. Enquire now to get access to great deals all over the world.
Choose from our range of Lima holiday packages below that each include your flights, accommodation, and often special bonuses like tours and free upgrades. If you can't find the package you're looking for, contact one of our friendly consultants on 2830 2899 and don't forget to ask about customising a package to suit your needs.
Looking for Lima Holiday Packages?
We can't find any online Lima holiday deals at the moment but one of our helpful Travel Experts can help you find what you're after! Send us an online enquiry or call us on 2830 2899.
Lima Airport (LIM)
Flights from Hong Kong to Lima will disembark at Jorge Chávez International Airport.
Lima's main airport, the Jorge Chávez International Airport (LIM) is located in Callao, north west of the historic heart and Miraflores. In 2010 the airport was awarded the Best Airport in South America by the UK based consultancy firm, Skytrax.
Airport Accommodation: There are a number of hotels located in close proximity to Jorge Chávez International Airport. Book your Lima Airport accommodation.
Airlines that fly to Lima
Airlines that offer cheap flights to Lima from Hong Kong include:
The location of Lima was inhabited by several pre-Columbian groups before Spanish conquistador Francisco Pizarro officially founded the city in 1535 under the authority from Spain. Strategically located on the Pacific Ocean, Lima became an important trading port throughout the colonial period leading to considerable wealth for the city. Today the ancient and colonial legacy blends effortlessly with independent Peru, as the country navigates the complexities of the modern world.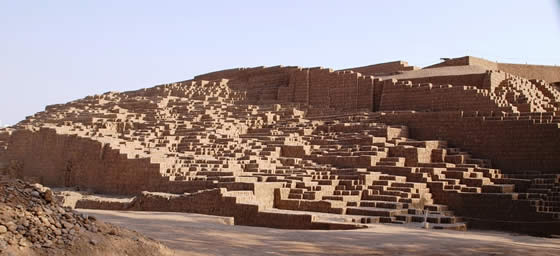 Pyramid of Huaca Pucllana
The pyramid of Huaca Pucllana, situated in the heart of Miraflores, was constructed by peoples who inhabited the region between 200 and 700CE. The temple complex of Pachacamac, just south of the city, is also worth exploring. The heart of the colonial period is located in the appropriately named Centro Historico. Consider admiring the impressive architecture on Plaza de Armas, the city's main historic square with the Cathedral and Archbishop's Palace, Palacio de Gobieno or Presidential Palace and the City Hall.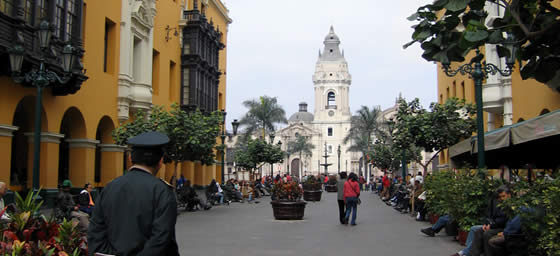 Plaza de Armas
On the coast is trendy Miraflores, where most travellers choose to base themselves. The district offers great shopping opportunities; consider exploring Larcomar, a shopping centre spectacularly located on a cliff overlooking the Pacific Ocean. A casual stroll along the cliff top via the various parks is a favoured activity if you have a spare afternoon. Adrenaline seekers can fulfil the inner daredevil with paragliding or hang gliding from the cliffs.
For more information on Lima holidays check out our Lima travel guide.
Looking for more than just a flight? A Lima holiday package includes flights, accommodation, and often other extras like tours or car hire.