Choose from our range of Las Vegas holiday packages below that each include your flights, accommodation, and often special bonuses like tours and free upgrades. If you can't find the package you're looking for, contact one of our friendly consultants on 2830 2899 and don't forget to ask about customising a package to suit your needs.
Looking for Las Vegas Holiday Packages?
We can't find any online Las Vegas holiday deals at the moment but one of our helpful Travel Experts can help you find what you're after! Send us an online enquiry or call us on 2830 2899.
Las Vegas Airport (LAS)
Flights from Hong Kong to Las Vegas will disembark at McCarran International Airport.
McCarran International Airport (LAS) was named in 1948 after Senator Pat McCarran, a Nevada politician who played a significant role in American aviation. In keeping with the city, the airport has over 1000 poker machines placed throughout the terminals.
Airport Accommodation: There are a number of hotels located in close proximity to McCarran International Airport. Book your Las Vegas Airport accommodation.
Airlines that fly to Las Vegas
Airlines that offer cheap flights to Las Vegas from Hong Kong include:
Since the legalisation of gambling in 1931, the casino scene has steadily grown to the dizzying array of options on offer today. This is an entertainment wonderland and without windows or clocks on the gaming floors it's very easy to forget about time and to roll with the night. With our flights to Las Vegas you can try your luck in your preferred casino.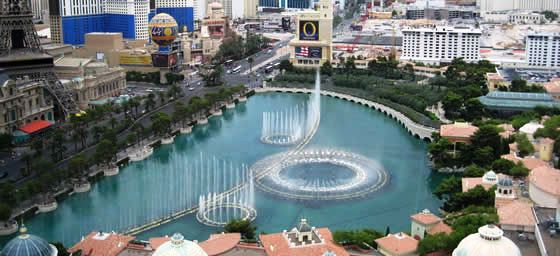 Bellagio Fountains
To support the adults-only entertainment theme, many casinos have created fantasy themes to transport holiday-makers away from reality. Arguably the most famous casino and hotel complex is the Bellagio, with its iconic water feature dancing to synchronised music. The Mirage boasts an erupting volcano and you can take a gondola ride at the Venetian Hotel. The aptly named Golden Nugget Hotel boasts the world's largest gold nugget.
Las Vegas also attracts the world's best performers to entertain holiday makers. David Copperfield's magic show is spell-binding, while Human Nature and Donny and Maire's performances continue to delight. Other big name performers include Celine Dion, Barry Manilow and Rod Stewart. If you prefer a musical consider booking tickets for the Phantom of the Opera or The Lion King.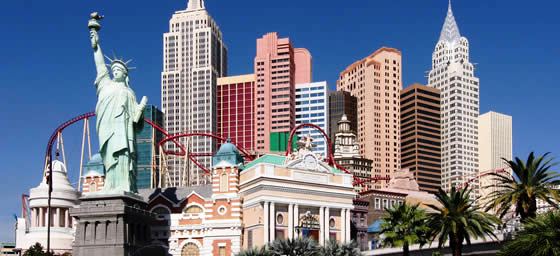 New York New York Hotel & Casino
For more information on Las Vegas holidays check out our Las Vegas travel guide.
Looking for more than just a flight? A Las Vegas holiday package includes flights, accommodation, and often other extras like tours or car hire. View our Las Vegas packages.