Choose from our range of Langkawi holiday packages below that each include your flights, accommodation, and often special bonuses like tours and free upgrades. If you can't find the package you're looking for, contact one of our friendly consultants on 2830 2899 and don't forget to ask about customising a package to suit your needs.
Langkawi Airport (LGK)
Flights from Hong Kong to Langkawi will disembark at Langkawi International Airport.
Langkawi International Airport (LGK), is situated on the duty-free island of Langkawi in the state of Kedah in Malaysia. The airport is located at Padang Matsirat and is about 25 minutes from the town centre.
Airport Accommodation: There are a number of hotels located in close proximity to Langkawi International Airport. Book your Langkawi Airport accommodation.
Airlines that fly to Langkawi
Airlines that offer cheap flights to Langkawi from Hong Kong include:
Looking for a flight and more, search for a holiday package.
For more information on Langkawi holidays check out our Langkawi travel guide.
Known for its excellent diving, Langkawi is a juggle-covered and beach-rimmed archipelago of 104 islands, 30 kilometeres off the northwest Malaysian mainland. Near the Thai border and tucked away from the monsoon season by the mountains of the mainland, Langkawi's natural beauty was recognised by UNESCO in 2007, declaring it a Geopark.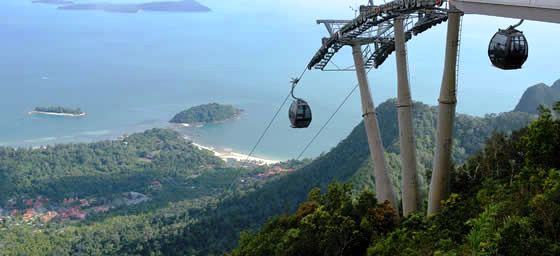 The Langkawi Cable Car
A thriving tourism industry was born with the main island's duty-free status, granted in 1987. Island-hopping, cave and mangrove tours and just plain lazing on the beach, are all popular across this hideaway. Here's a quick guide to other top things to see and do:
Visit Oriental Village – and cable car to the top of the mountain and walk the 700-metre high Sky Bridge for a view of Thailand.
Swim at Tanjung Rhu beach – at the northernmost tip of the island, with its ancient limestone caves, mangroves and limestone crags.
Reef dive at Pulau Payar Marine Park – a beautiful marine reserve 19 nautical miles off Langkawi.
Climb the Seven Wells Waterfalls – and bathe where legend has it the fairies do; but be ready for the 300-plus steps to get there.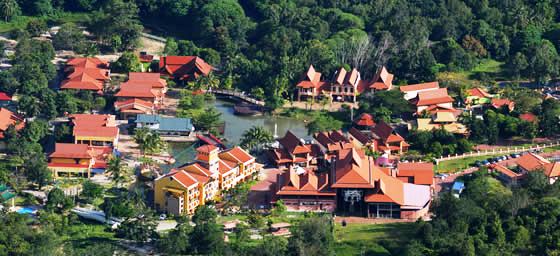 Geopark Hotel, Oriental Village