We don't have any products online right now but one of our consultants may be able to help you. Enquire now to get access to great deals all over the world.
Looking for Guam Holiday Packages?
We can't find any online Guam holiday deals at the moment but one of our helpful Travel Experts can help you find what you're after! Send us an online enquiry or call us on 2830 2899.
Guam Airport (GUM)
Flights from Hong Kong to Guam will disembark at Antonio B. Won Pat International Airport.
Antonio B. Won Pat International Airport (GUM), also known as Guam International Airport, is located 4.8 kilometres east of Guam's capital city of Hagåtña. Named for the first delegate from Guam to the United States House of Representatives, the airport is a hub for United Airlines and Asia Pacific Airlines.
Airlines that fly to Guam
Airlines that offer cheap flights to Guam from Hong Kong include:
For more information on Guam holidays check out our Guam travel guide.
Guam is in the South Pacific Ocean, on the Philippine Sea. Controlled by Spain until 1898, when it was surrendered to the USA during the Spanish-American War, Guam has a mixed population spread across its 48-kilometre length and 6 to 19-kilometre width. More than one-third are native Chamorros and the next-largest group are Filipino. In line with the island's history, European, Spanish, Japanese, Korean and Chinese descendents are also settled on Guam.
Plaza de Espana
Its tourist hub, Tumon, features large hotels, duty-free shopping, an indoor aquarium and Las Vegas-styled shows, all of which are popular with the plentiful Japanese tourists. The attractive Tumon Bay has been declared a marine wildlife reserve and there is a sea turtle refuge in northern Guam.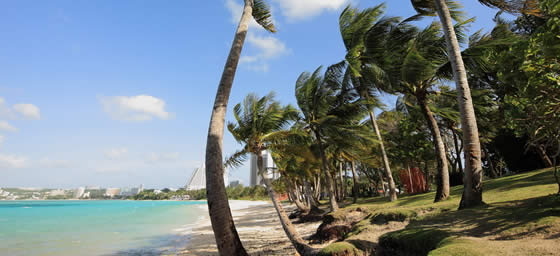 South Pacific Sea Breeze
Tourism, US military spending and the export of fish and handicrafts are major influences on Guam's economy. One of the benefits of having such a large US military presence on the island is the significant telecommunications capabilities – you'll have no problem getting mobile phone reception or internet access here!
Grab a flight to Guam for different type of holiday.