We don't have any products online right now but one of our consultants may be able to help you. Enquire now to get access to great deals all over the world.
Choose from our range of Glasgow holiday packages below that each include your flights, accommodation, and often special bonuses like tours and free upgrades. If you can't find the package you're looking for, contact one of our friendly consultants on 2830 2899 and don't forget to ask about customising a package to suit your needs.
Looking for Glasgow Holiday Packages?
We can't find any online Glasgow holiday deals at the moment but one of our helpful Travel Experts can help you find what you're after! Send us an online enquiry or call us on 2830 2899.
Glasgow Airport (GLA)
Flights from Hong Kong to Glasgow will disembark at Glasgow International Airport .
Glasgow International Airport (GLA) is located south west of the city centre near the towns of Paisley and Renfrew. The airport was first opened in 1966 and currently handles around six and half million passengers a year.
Airport Accommodation: There are a number of hotels located in close proximity to Glasgow International Airport. Book your Glasgow Airport accommodation.
Airlines that fly to Glasgow
Airlines that offer cheap flights to Glasgow from Hong Kong include:
For more information on Glasgow holidays check out our Glasgow travel guide.
Glasgow, Scotland's largest city, is amid a long-term transformation from major maritime and industrial centre to a thriving but unpretentious cultural, design and sports hub. Previously bestowed the titles City of Culture (1990), City of Architecture and Design (1999) and Capital of Sport (2003), Glasgow will host the 2014 Commonwealth Games.
There are lavish Victorian and Edwardian buildings and civic squares in the city centre, and there's more metropolitan parkland here than in any other British city. If you stand with a map on a street corner, it's an invitation to the friendly locals to help you but keep your ears honed for conversation with them. Glaswegians speak quickly, often with a healthy dose of regional dialect thrown in. Engage a local long enough and you'll hear about the rivalry with Edinburgh and how Glasgow is really where the action is.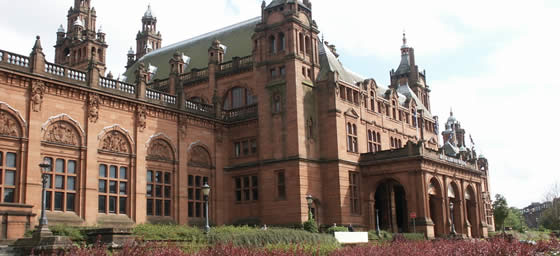 Kelvingrove Art Gallery & Museum
Here's a quick must-do list while you're in the city on the River Clyde:
Visit Kelvingrove Art Gallery & Museum – it unashamedly but effectively shows life as it has been, and now is, in Glasgow
See Glasgow Cathedral – a premier example of 15th-century Gothic architecture and the only mainland Scottish cathedral to have survived the Reformation
Relax on Glasgow Green – founded by Royal Grant in 1450 and now a major open-air venue for concerts
Listen to a local band – but you'll be spoiled for choice across genre; there are more than 130 gigs per week across Glasgow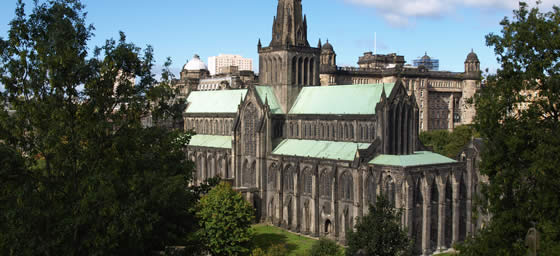 Glasgow Cathedral
Grab a flight to Glasgow to be one of the thousands who visit annually, search for a holiday package or check out an accommodation only deal.