Choose from our range of Frankfurt holiday packages below that each include your flights, accommodation, and often special bonuses like tours and free upgrades. If you can't find the package you're looking for, contact one of our friendly consultants on 2830 2899 and don't forget to ask about customising a package to suit your needs.
Looking for Frankfurt Holiday Packages?
We can't find any online Frankfurt holiday deals at the moment but one of our helpful Travel Experts can help you find what you're after! Send us an online enquiry or call us on 2830 2899.

Frankfurt Airport (FRA)
Flights from Hong Kong to Frankfurt will disembark at Frankfurt Airport.
Frankfurt Airport (FRA) is the primary international airport of Frankfurt and the busiest airport in Germany. Located in a densely populated region of Germany, Frankfurt Airport reaches most international destinations and is the third busiest airport in Europe.
Airport Accommodation: There are a number of hotels located in close proximity to Frankfurt Airport. Book your Frankfurt Airport accommodation
Airlines that fly to Frankfurt
Airlines that offer cheap flights to Frankfurt from Hong Kong include:
With office buildings reaching sky high and a substantial number of financial and credit companies operating in its midst, Frankfurt is the undisputed business centre of Germany. Located on the River Main in the German State of Hesse, the financial powerhouse is the seat of the European Central Bank, the German Federal Bank and the Frankfurt Stock Exchange. In addition to banks, the city also hosts a range of world famous industry fares including the Frankfurt Auto Show and the Frankfurt Book Fair. Travel to the city is another of Frankfurt's big businesses. Frankfurt Airport is the third busiest airport in Europe and the major intersection for many of Germany's Autobahns and railway lines. With business booming and access easily available, approximately 650,000 people commute to Frankfurt each day. View our range of Frankfurt accommodation to keep you comfortable during your stay.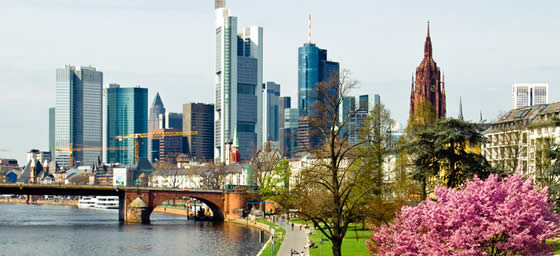 City Skyline
In terms of Germany's economy, Frankfurt is an important city and in terms of Germany's history, Frankfurt is equally important. During the Holy Roman Empire Times the city was where German kings and emperors were elected and in 1372 Frankfurt officially became an imperial city of the Holy Roman Empire. Following the collapse of the Empire and the fall of Napoleon, Frankfurt entered the newly founded German Confederation and was the seat of the first democratic elected parliament, with the Prussian King as its monarch. From the 1920s to the 1940s, Frankfurt was greatly affected by war. The Second World War saw many of Frankfurt's buildings destroyed and the city's landscape change dramatically. Once the war was over Frankfurt became a part of the state of Hesse and began rebuilding the city to the modern metropolis it is today. Book your Frankfurt tour and marvel in the history, culture and sheer beauty of this delightful German city.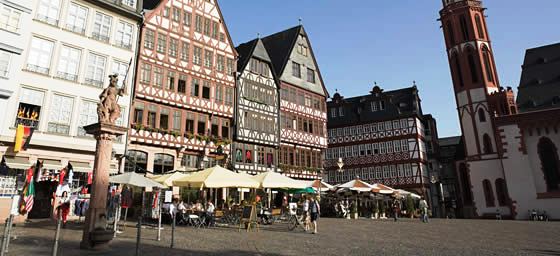 Romerberg Plaza
There is however, more to Frankfurt than business and buildings. The city is commonly referred to as one of the most liveable cities in the world. We have a range of Frankfurt holiday packages for you to explore the parks and markets, theatres and galleries that keep locals entertained and add to the city's cultural side. Frankfurt is also known as a young city and as such has a colourful café and nightlife scene.
For more on Frankfurt holidays check out our Frankfurt travel guide.
Looking for more than just a flight? A Frankfurt holiday package includes flights, accommodation, and often other extras like tours or car hire. View our Frankfurt packages.