Choose from our range of Edinburgh holiday packages below that each include your flights, accommodation, and often special bonuses like tours and free upgrades. If you can't find the package you're looking for, contact one of our friendly consultants on 2830 2899 and don't forget to ask about customising a package to suit your needs.
Edinburgh Airport (EDI)
Flights from Hong Kong to Edinburgh will disembark at Edinburgh Airport.
Edinburgh Airport (EDI) is Scotland's principle airport, located to the west of the city in Turnhouse. The airport was opened in 1977 and currently serves nine million passengers per year.
Airport Accommodation: There are a number of hotels located in close proximity to Edinburgh Airport. Book your Edinburgh Airport accommodation.
Airlines that fly to Edinburgh
Airlines that offer cheap flights to Edinburgh from Hong Kong include:
For more information on Edinburgh holidays check out our Edinburgh travel guide.
The capital of Scotland since 1437, history is inescapable when you walk the hilltop cobblestones of the Old Town's Royal Mile. The Mile is bookended by Edinburgh castle and Holyrood Palace (both must-see sites) and the alleyways of the medieval town flank your path giving glimpses of the Georgian New Town. Enjoy the street performers, push through the tourist crush and escape down a side street that's been tumbling down the hill for centuries. For a true experience of the old tenements, take a tour of Mary King's Close.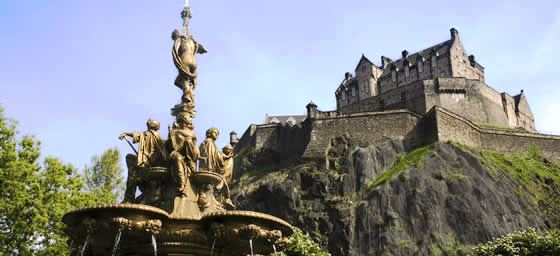 Edinburgh Castle
Literary blood is strong in Edinburgh: Sir Walter Scott, Robert Louis Stevenson and Aurthur Conan Doyle are among those who have made their mark here. More recently, 'Trainspotting', Ian Rankin's Inspector Rebus novels and Alexander McCall Smith's 'The No. 1 Lady Detective's Agency' have been set in Edinburgh – and of course J.K Rowling wrote here too. But this is a thinking and drinking city – the locals know how to enjoy themselves.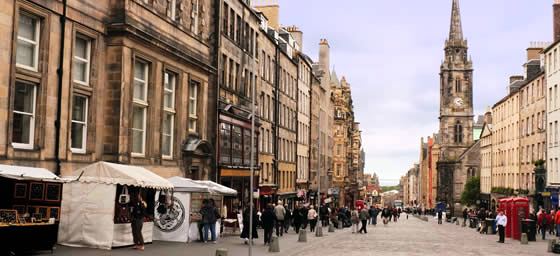 Royal Mile
Here's few festivals on the city's calendar: Edinburgh International Festival; Scottish International Storytelling Festival; Edinburgh Festival Fringe; Jazz and Blues Festival; Edinburgh International Science Festival; Festival of Politics; Imaginate Festival. And every new year begins with a Hogmanay extravaganza – not 1 evening but 3 days of celebration.
Sound like fun? Grab a flight to Edinburgh if you're set to go, check out the Edinburgh accommodation options or if you'd like to talk more, give Flight Centre a call on 2830 2899.