We don't have any products online right now but one of our consultants may be able to help you. Enquire now to get access to great deals all over the world.
Choose from our range of Chicago holiday packages below that each include your flights, accommodation, and often special bonuses like tours and free upgrades. If you can't find the package you're looking for, contact one of our friendly consultants on 2830 2899 and don't forget to ask about customising a package to suit your needs.
Looking for Chicago Holiday Packages?
We can't find any online Chicago holiday deals at the moment but one of our helpful Travel Experts can help you find what you're after! Send us an online enquiry or call us on 2830 2899.
Chicago Airport (ORD)
Flights from Hong Kong to Chicago will disembark at Chicago O'Hare International Airport.
Chicago O'Hare International Airport (ORD) is located northwest of the city and is named after Edward O'Hare, a Medal of Honour recipient from World War II. The airport remains a hub for American Airlines and United Airlines.
Airport Accommodation: There are a number of hotels located in close proximity to Chicago O'Hare International Airport. Book your Chicago Airport accommodation.
Airlines that fly to Chicago
Airlines that offer cheap flights to Chicago from Hong Kong include:
The clutch of pioneering architecture in Chicago's downtown reflect in the waters of Lake Michigan. This is the sprawling home of the blues, the hub of the USA's Midwest, where high- and lowbrow clash amid huge parks, public art, waterfronts, luxury and grit. Also an international hub for finance, industry and telecommunications, you've got much to get your teeth into as a visitor in The Windy City (a name with political, not meteorological origins).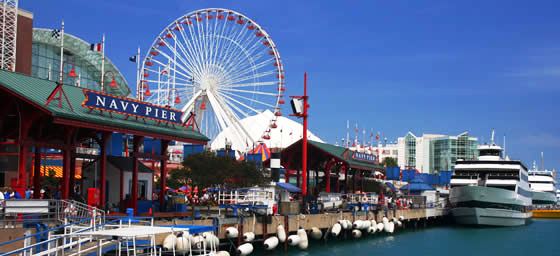 Navy Pier
Chicago has a thriving theatre community (belt out a round from Chicago the musical and you'll not be frowned upon) and prolific movie industry. Films produced here include Ferris Bueller's Day Off, The Blues Brothers and Batman Begins. It's a city that's inspired much journalism and literature and its museums and cultural institutions are highly regarded. Diverse and reflective of its immigrant character, Chicago is a city that works and plays hard too.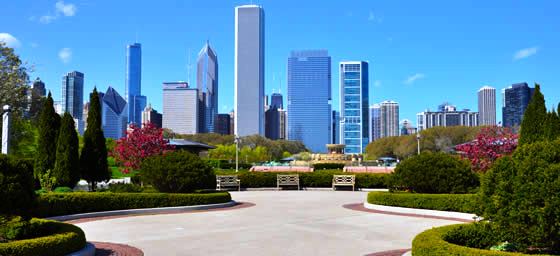 Grant Park
A quick guide to neighbourhoods to visit, things to see and do:
Grant Park – hosts the annual, mouth-watering Taste of Chicago festival, Millenium Park and the Art Institute of Chicago
The Magnificent Mile – adjacent to the downtown area, running along part of Michigan Avenue, has upmarket shopping and nightlife
Eat at Bella Bacino's – arguably home of the best stuffed pizza (a Chicago specialty) in town
Go to Lee's Unleaded Blues – in the Chatham-South Shore district, to hear the funkiest, unadulterated blues in its 'untouristy' glory
Grab a flight to Chicago to be one of the 44 million people who visit annually or search for an accommodation deal.
For more information on Chicago holidays check out our Chicago travel guide.