Choose from our range of Canada holiday packages below that each include your flights, accommodation, and often special bonuses like tours and free upgrades. If you can't find the package you're looking for, contact one of our friendly consultants on 2830 2899 and don't forget to ask about customising a package to suit your needs.
Looking for Canada Holiday Packages?
We can't find any online Canada holiday deals at the moment but one of our helpful Travel Experts can help you find what you're after! Send us an online enquiry or call us on 2830 2899.
If you're the owner of an adventurous spirit, you're going to love Canada. This is after all the land of natural wonders, where serene prairies, world class ski resorts and Rocky Mountains offer a wealth of possibilities. Canada is also the stomping ground of grizzly bears, badgers, moose and bison. But its wild side doesn't just live in the wilderness. The cities too are known for their untamed nightlife, exotic festivals and lively culture. So whether it's a city stay or a trek into the wild, a Canadian holiday won't disappoint.
Most international flights disembark in Toronto, Canada's largest city. This worldly city is where you can get a taste of city living - Canadian style. See the city from above at the CN tower, wander the halls of the Royal Ontario Museum, witness the passion of an ice hockey game and at the end of the day, recline with a cocktail in the Entertainment District. Though it may be home to luxury hotels and famous film festivals, even in Canada's largest city you can take a 90 minute drive to one of the world's most famous natural wonders, the thrilling Niagara Falls.
Vancouver & Surrounding Mountains
Vancouver is the beating heart of British Colombia. Young and vivacious, Vancouver is a place many dream of living in, and it's easy to see why. From beaches to forests, snow capped mountains and bustling city streets, activities abound this city. Nature lovers won't want to miss walking the Capilano Suspension Bridge, climbing the Coast Mountains or bike riding through Stanley Park. Or if you'd prefer a more informative fix, visit the Vancouver Art Gallery, Science World or Vancouver Aquarium.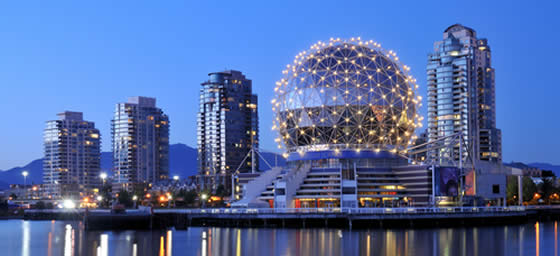 Vancouver Science World
Montreal, Quebec's largest city, is another must visit destination. A centre for design and the arts, Montreal is a cultural hub beloved for its old world architecture and multicultural community. Discover Montreal's mature side by exploring the Old City, visiting the Montreal Museum of Fine Arts or enjoying the sounds of the Montreal Symphony Orchestra. For something a little more light hearted, be entertained by the city's booming circus scene, consisting of Cirque Du Soliel, the National Circus School and La TOHU.
For flights to Canada call Flight Centre on 2830 2899.