Choose from our range of Buenos Aires holiday packages below that each include your flights, accommodation, and often special bonuses like tours and free upgrades. If you can't find the package you're looking for, contact one of our friendly consultants on 2830 2899 and don't forget to ask about customising a package to suit your needs.
Looking for Buenos Aires Holiday Packages?
We can't find any online Buenos Aires holiday deals at the moment but one of our helpful Travel Experts can help you find what you're after! Send us an online enquiry or call us on 2830 2899.
Buenos Aires Airport (EZE)
Flights from Hong Kong to Buenos Aires will disembark at Ministro Pistarini International Airport.
Officially named the Ministro Pistarini International Airport (EZE), Buenos Aires' principle airport is more commonly known as the Ezeiza International Airport because of its location south west of the city. The airport was built between 1945 and 1949 as part of Juan Perón's five year plan.
Airport Accommodation: There are a number of hotels located in close proximity to Ministro Pistarini International Airport. Book your Buenos Aires Airport accommodation.
Airlines that fly to Buenos Aires
Airlines that offer cheap flights to Buenos Aires from Hong Kong include:
With 48 unique districts, Buenos Aires offers interest and variety behind every street corner. Consider exploring the district or barrio, as the locals call them, of Recoleta, a relatively exclusive enclave with designer boutiques and chic eateries. The big draw cards of Recoleta include the famous cemetery that's the final resting place of Eva Duarte, more commonly known as Eva Peron and the Museo Nacional de Bellas Artes.
Central Buenos Aires is called the Microcentre and features the main shopping pedestrian mall on Florida Street and the iconic Obelisco on Avenida 9 de Julio. The must-see Casa Rosada on Plaza de Mayo is a focal point for those interested in Argentine history. The barrio also boast dozens of theatres offering musicals, plays and opera.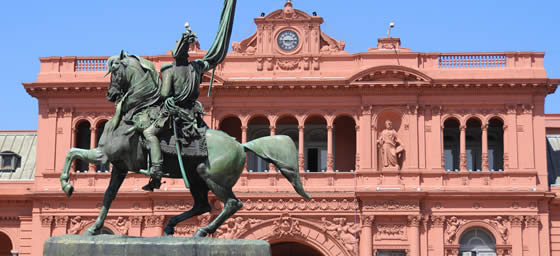 Casa Rosada
To the south of the Microcentre is San Telmo, a bohemian district with impressive colonial-style houses and a noted Sunday market featuring antiques and crafts. Alternatively consider heading southwest to Palermo, a trendy suburban neighbourhood that features beautiful restaurants and the Buenos Aires zoo. La Boca is popular with visitors keen to see the brightly coloured houses unique to this barrio.
In recent years, Puerto Madero, the city's port, has been rejuvenated and revitalised. Today it boasts boutique accommodation, trendy bars and international food chains. The nearby Reserva Ecológica is a wonderful escape from the city's pace. With our cheap flights to Buenos Aires, you can explore these districts and more.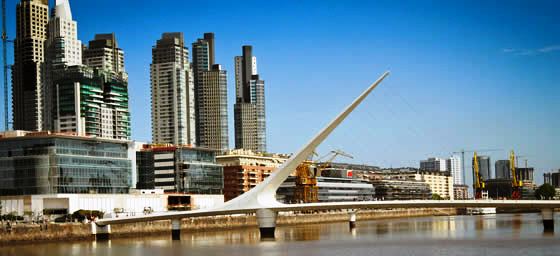 Puerto Madero
For more information on Buenos Aires holidays check out our Buenos Aires travel guide.
Looking for more than just a flight? A Buenos Aires holiday package includes flights, accommodation, and often other extras like tours or car hire.