Choose from our range of Boston holiday packages below that each include your flights, accommodation, and often special bonuses like tours and free upgrades. If you can't find the package you're looking for, contact one of our friendly consultants on 2830 2899 and don't forget to ask about customising a package to suit your needs.
Looking for Boston Holiday Packages?
We can't find any online Boston holiday deals at the moment but one of our helpful Travel Experts can help you find what you're after! Send us an online enquiry or call us on 2830 2899.
Boston Airport (BOS)
Flights from Hong Kong to Boston will disembark at Boston Logan Airport.
General Edward Lawrence Logan International Airport (BOS) is located in the East Boston neighborhood. The largest airport in the New England area, as of 2010, Logan is the 19th busiest airport in the United States with about 13.5 million boardings a year and 28 million passengers overall in 2011.
Airport Accommodation: There are a number of hotels located in close proximity to Boston Logan Airport. Book your Boston Airport accommodation.
Airlines that fly to Boston
Airlines that offer cheap flights to Boston from Hong Kong include:
For more information on Boston holidays check out our Boston travel guide.
One of the oldest cities in the USA, Boston is diverse, culturally rich and home to many cutting-edge architecture and innovative urban planning projects. Bostonians were the instigators of the independence movement in the 18th century and their feisty spirit remains.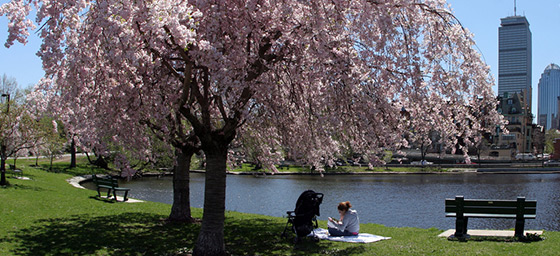 Public Park with Spring Cherry Blossoms
Due to its early founding, the centre is compact (and easy to walk). The city as a whole is magnificent in late spring (May and June) or early autumn (September and October), when parks are filled with flowering trees or colorful leaves. Boston Common, near the Financial District and Beacon Hill, is the oldest public park in the USA.
A quick guide to neighbourhoods to visit:
Back Bay – an upmarket area with classy boutiques and fine dining
Chinatown – sits between downtown and the theatre district and is the US's fourth-largest Chinatown
Downtown – this is a tourist hub and includes the Freedom Trail, Boston Public Garden, and Boston Common
North End – Boston's Italian district, with fabulous food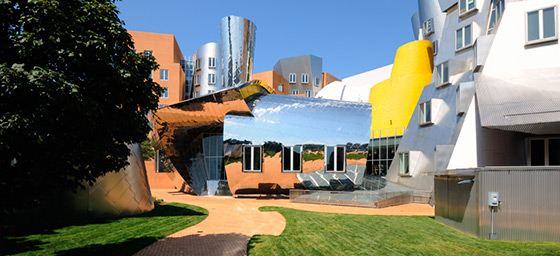 Fun, colorful, irregular, postmodern architecture of MIT Strata Center in Cambridge
Boston's wealth of academic institutions keeps the city thriving with students and entrepreneurial energy. As the unofficial capital of New England, there's much to see beyond the city too. More than 16 million people visit each year – grab a flight to Boston and be one of them! For more information to start, check out Boston accommodation.