We don't have any products online right now but one of our consultants may be able to help you. Enquire now to get access to great deals all over the world.
Choose from our range of Bogota holiday packages below that each include your flights, accommodation, and often special bonuses like tours and free upgrades. If you can't find the package you're looking for, contact one of our friendly consultants on 2830 2899 and don't forget to ask about customising a package to suit your needs.
Looking for Bogota Holiday Packages?
We can't find any online Bogota holiday deals at the moment but one of our helpful Travel Experts can help you find what you're after! Send us an online enquiry or call us on 2830 2899.
Bogota Airport (BOG)
Flights from Hong Kong to Bogota will disembark at El Dorado International Airport.
El Dorado International Airport (BOG) is named after the famed legend of the tribal chief that later became associated with the lost city of gold. Bogotá's principle airport, located on the western extremity of the city, has two passenger terminals.
Airport Accommodation: There are a number of hotels located in close proximity to El Dorado International Airport. Book your Bogota Airport accommodation.
Airlines that fly to Bogota
Airlines that offer cheap flights to Bogota from Hong Kong include:
Flights to Bogota land you in the capital of Colombia, home to about 9 million people. Set in the center of the country on a plain 2,600 meters above sea level in the Colombian Andes, it melds history, geography and modernity. You can find old churches and plazas in the shadow of skyscrapers. It's ranked by the UK's World Cities Study Group as similar to Berlin, Buenos Aires or Washington D.C when grouped by economic, political and cultural developments.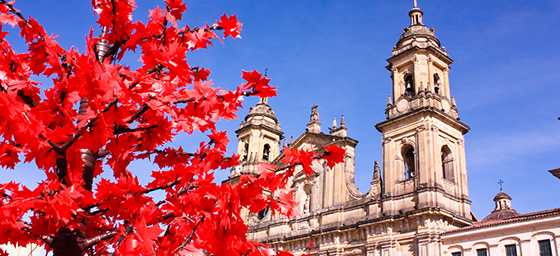 Catedral Basiiica Metropolitana de la Inmaculada Concepcion, La Candelaria
Here you'll find European and North American influences in the food, culture and architecture. If you like art and music, there are more than 60 museums and galleries, the internationally-renowned annual Ibero-American Theater Festival and Bogota's massive music festival Rock al Parque. Outdoor-lovers can enjoy more than 4,500 parks around the city and almost 300 kilometres of cycle paths. Shoppers are not forgotten: there are 100 malls in Bogota.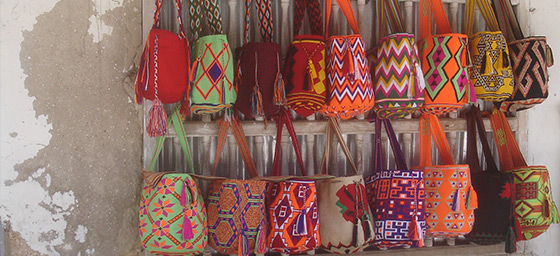 Hand-made Colombian Bags for Sale
A quick guide to neighbourhoods to visit:
La Candelaria – this is Bogota's first official district, founded in 1538 by Spanish conquistador Gonzalo Jiménez de Quesada y Rivera
Chapinero – north of La Candelaria, this is the new downtown area of the city
La Macarena – this is a bohemian part of the city with cafes, galleries and great restaurants, and a bull fight ring to boot
Parque de la 93 – a trendy section with nightclubs and cafes frequented by Bogota's highflyers
For more information on Bogota holidays check out our Bogota travel guide.