Choose from our range of Amsterdam holiday packages below that each include your flights, accommodation, and often special bonuses like tours and free upgrades. If you can't find the package you're looking for, contact one of our friendly consultants on 2830 2899 and don't forget to ask about customising a package to suit your needs.
Amsterdam Airport (AMS)
Flights from Hong Kong to Amsterdam will disembark at Amsterdam Airport Schiphol.
Amsterdam Airport Schiphol (AMS) is the main international airport of the Netherlands and the fifth largest airport in Europe. Schiphol has only one terminal and is a major hub for KLM Royal Dutch Airlines.
Airport Accommodation: There are a number of hotels located in close proximity to Amsterdam Airport Schiphol. Book your Amsterdam Airport accommodation
Airlines that fly to Amsterdam
Airlines that offer cheap flights to Amsterdam from Hong Kong include:
The Dutch capital stands proud as a picturesque city with a great night life. Exploring all that the city has to offer is possible with our Amsterdam flights. Strolling through the quaint streets is a favoured pastime with 400 bridges connecting the 90 or so islands that form central Amsterdam. There are about 7000 recognised historic buildings that together create an overwhelming feeling of preserved authenticity. It's worth hunting out two medieval wooden houses that have survived from the fifteenth and sixteenth centuries.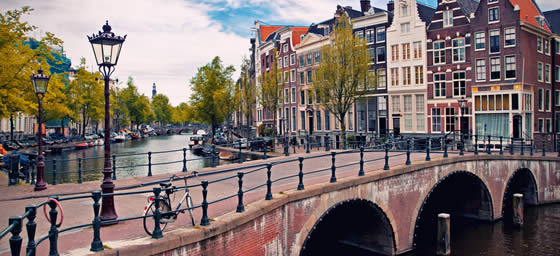 Canal Houses
As a sombre reminder of the atrocities of Nazi Germany, consider visiting the Anne Frank Museum. The museum is located in the house that Anne Frank and her family hid from the Nazis during the occupation. Anne's story has touched subsequent generations as she wrote a diary detailing her life in hiding. The museum curator has placed exacts from the diary on the walls of the house as described by the author. This is a very touching tribute to the Frank family and solemn memorial to all Jews that suffered during this period in history.
While there are many famous Dutch artists, perhaps the most famous is Vincent Van Gogh, a post-impressionist painter. The Dutch master's works are now celebrated in the Van Gogh Museum, with an astonishing collection of works covering his career. Cultural enthusiasts will also appreciate the Rijksmuseum, with an enviable collection of paintings by a veritable who's who of Dutch art including Rembrandt van Rijn, Johannes Vermeer, Frans Hals and Jan Steen.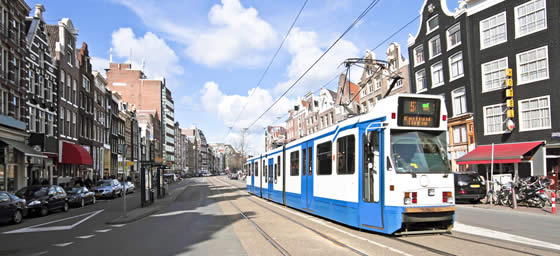 City Trams
For more information on Amsterdam holidays check out our Amsterdam travel guide.
Looking for more than just a flight? An Amsterdam holiday package includes flights, accommodation, and often other extras like tours or car hire. View our Amsterdam packages.