Choose from our range of Adelaide holiday packages below that each include your flights, accommodation, and often special bonuses like tours and free upgrades. If you can't find the package you're looking for, contact one of our friendly consultants on 2830 2899 and don't forget to ask about customising a package to suit your needs.
Looking for Adelaide Holiday Packages?
We can't find any online Adelaide holiday deals at the moment but one of our helpful Travel Experts can help you find what you're after! Send us an online enquiry or call us on 2830 2899.
Adelaide Airport (ADL)
For helpful information about getting to and from the airport, check-in information and more have a look at our Adelaide Airport Guide.
Airport Accommodation: There are a number of hotels located within close proximity to Adelaide Airport. Book your Adelaide Airport Accommodation.
Airlines that fly to Adelaide
Airlines that offer cheap flights to Adelaide from Hong Kong include:
Exploring the streets of Adelaide truly is a historical adventure. The picturesque Port Adelaide offers numerous historic buildings, from old pubs to the National Railway Museum. Pay a visit to the Adelaide Gaol just outside the city centre and discover one of the two oldest buildings in South Australia, not to mention a spooky yet historical journey through one of Adelaide's most popular tourist attractions.
St Peter's Cathedral
One thing that stands out when setting foot in Adelaide is the lush greenery that surrounds the CBD. The city lives up to its reputation as Australia's garden city thanks to the meticulously manicured parklands that enclose the city centre, consisting of the Botanic Garden of Adelaide, Botanic Park, Rymill Park, Veale Gardens and Edwards Park, just to name a few. There are also several large and very green public squares in the city where city workers escape the hustle and bustle. An afternoon of exploring the many gardens of Adelaide is a must for any nature lover.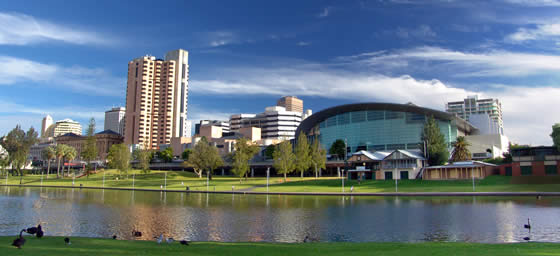 Adelaide Convention Centre
Adelaide is Australia's premier destination for wine tourism, with Clare Valley, Barossa Valley and McLaren Vale all within two hours' drive of the city and perfect for a day trip. There are plenty of tours on offer to these regions as well as numerous quaint accommodation options if you'd prefer to stay a night or two.
You might also be interested in our international airline guide.