Taxi
SGD$43 approximately to city centre
Public Transport
The Canada Line rapid transit rail system connects the airport to downtown Vancouver in just 26 minutes. The station is located in between the International and Domestic Terminals. Passengers travelling on the Canada Line from Vancouver Airport are subject to a $5 fee on top of the regular zone fare.
Car Hire
Car rental counters are located on the ground floor of the main car park. To make a reservation or for more information, contact your preferred car rental company directly. Companies available at Toronto Airport include Avis, Budget, Dollar-Thrifty, Enterprise, Hertz and National. You can book your car online to guarantee availability.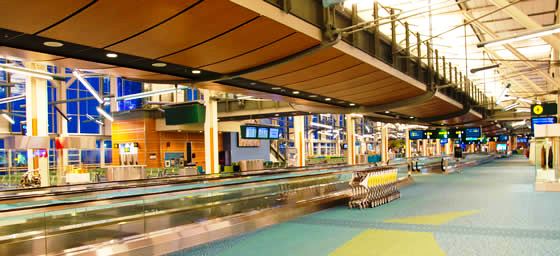 Vancouver Airport
Check-in
Check-in desks and self check-in kiosks are located on the Departures Level of both terminals, near the main entrances. Contact your airline directly to find out if online check-in is available.
Money Exchange
Travelex currency exchange desks are located on both the Arrivals and Departures levels of Terminal 3. There are also ICE currency exchange desks throughout Terminal 1. ATMs are conveniently located throughout the airport. 
Business Services
Business travellers can make use of Toronto Airport's free WiFi, VIP lounges and public phones. Fax services are available at the Travel Store on the Departures Level of Terminals 1 and 3. There are also several hotels in close proximity to Toronto Airport that offer full conference facilities.
Internet Access
Free WiFi is provided throughout Toronto Airport. To access your free WiFi, simply connect to the network named "Toronto Pearson Wi-Fi" on your device.
Baggage
For any luggage items lost within Toronto Airport, on a GTAA contracted bus or on the LINK train, contact the Lost and Found office on (416) 776-7749. Baggage wrapping and storage are available at the Travel Store located on the Departures Level of Terminals 1 and 3.
Family Facilities
Baby changing facilities are available throughout the airport, both before and after security screening.
Airline Lounges
Air Canada Maple Leaf Lounge - Air Canada has two Maple Leaf Lounges in Toronto Airport - one in the domestic area of Terminal 1 and one in the transborder area of the same terminal. Each lounge offers complimentary beverages, snacks and light meals, WiFi access, televisions, reading material, computers, printers, copiers and fax machines, showers and conference rooms. Maple Leaf Lounge access is granted to Maple Leaf Club members, Star Alliance Gold members, United Club members and US Airways Club members.
Plaza Premium Lounge - There are five Plaza Premium Lounges located within Toronto Airport - three in Terminal 1 and two in Terminal 3. These lounges are open to passengers of any airline and any class, as entry is solely fee-based. The lounges offer complimentary food and beverages, showers, WiFi access, televisions, reading material, lockers, comfortable seating areas and computer workstations with printers.
The fastest way to get between Terminals 1 and 3 is on the LINK train. This service is free, convenient and offers wheelchair access. The Terminal 1 station is located on Level 5 of the car park, while the Terminal 3 station is situated near the Sheraton Hotel pedestrian bridge.
Toronto Airport is serviced by several international airlines. Please refer to the below list for more information on the airlines that fly to Toronto.
The following airlines reach Vancouver. Don't see the airline you are looking for? Talk to a consultant to book your Vancouver flights with your preferred airline.
There are a number of hotels located within close proximity to Toronto Airport.